Campus Life
Comfort in a Time of Turbulence
Students find stability in online classes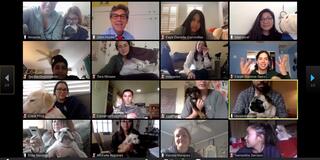 In these days of uncertainty and upheaval, it's kind of nice to go online and talk about learning.
"It's nice to have some sense of normalcy," said Kyle Lung '21, a student in the MFA in Writing program. "It's a relief to see all these people talk about school stuff like nothing has changed or happened."
Some students are also enjoying being outside the classroom but still being able to learn.
"I like how it's not as time-consuming as far as being in class all day," said Christian Aponte '21, a computer science major.
Different Students, Same Issues
But while both graduate and undergraduate students are finding ways to enjoy the switch to online classes, they still worry.
Lung worries about the lack of face-to-face learning. "With our program's classes now being shortened from three hours to two, we're losing in-class writing time and missing out on instant feedback from classmates," he said. "It's forcing us to spend more time working alone than we usually do."
Aponte also worries about losing learning time. "What if my WiFi has trouble or stops working?" he said. "I could miss out on important emails or even miss classes."
Students who aren't used to being isolated are also worried about staying connected with peers.
"My fear is that some of us who might be less socially adept will fall by the wayside," said Jeph Ninety '21, another student in the MFA in Writing program. "Face-to-face connection is crucial for me academically. There's just something about getting to a physical classroom and sitting with 12 like-minded seekers that's much more stimulating creatively."
Still Dedicated to Learning
Despite these challenges, students say they are still energized to learn.
"I just hope I can still learn the same through online classes," Lung said. "I really need class to matter because it's the only connection I have to USF and learning right now."
Ninety said that while he misses classes on campus, "being home all day allows me to focus on the classwork and provides time for me to dig into our texts like I need to. And then it feels good to still have regular class meetings, even if they're online. They're something you can count on."