Equipped to Lead and Succeed
Closing the Gender Gap in Computer Science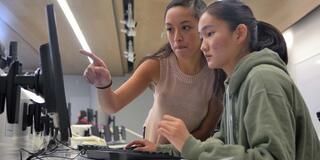 The dwindling numbers of women in computing jobs is not a new problem. Over the past 30 years, computer science majors who are women have been steadily falling. According to a recent report, in 1984, they comprised 37%; in 2014, 18%. To help turn this around, USF's computer science department holds an annual coding camp for girls in middle school and high school.
"Research has shown that girls consider the widest range of potential career choices during middle school, and that their views have become 'more restrictive' by the start of high school," said Professor Alark Joshi.
The workshop has been run annually for the past 12 years by computer science faculty, such as Professors David Wolber, Sami Rollins, and EJ Jung. Earlier this August, it was Joshi's turn to show local kids the joy of computing.
It's the hope of the computer science department that the camp will serve to spike an interest in coding in the girls, and inspire more of them to pursue it as a field of study and, eventually, a career.
An opportunity for undergrads, grad students
While it's certainly a great opportunity for the campers, it's also a great opportunity for camp's staff. With every camp, the faculty running it will enlist the help of their undergrad or graduate students, as teaching assistants.
"Students who show promise with respect to teaching and tutoring are recruited to help with the workshop," Joshi said. "Those that are selected lead an entire 2-hour teaching session during the week-long camp, and when not leading, they float around the classroom to give the campers any one-on-one attention they need."
Student teachers are paid for their help with the camp, and along with working to make it run as smoothly as possible, they also have a hand in developing the curriculum.
Which is of great benefit in a variety of ways.
"It definitely looks great on their resume," Joshi said, "and helps deepen their understanding of the introductory material since they have to teach it to younger students. But it also makes them feel empowered. That their knowledge can potentially ignite a spark in a young student's mind."
The student instructors also form a sense of community amongst each other, Joshi added, and, if not already a member, they will often join and actively participate in the Women in Tech club on campus.