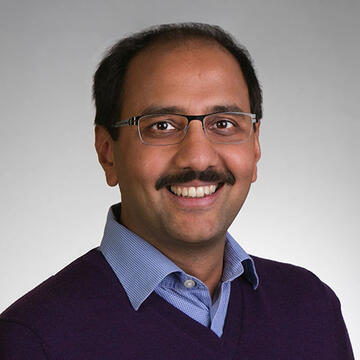 Alark Joshi
Associate Professor
Harney Science Center 415
Biography
Alark Joshi works on data visualization projects for improved neurosurgical planning and treatment. His research focuses on developing and evaluating the ability of novel visualization techniques to communicate information for effective decision making and discovery. His work has led to novel visualization techniques in fields as diverse as computational fluid dynamics, atmospheric physics, medical imaging and cell biology. Alark received his PhD from the University of Maryland, was a Postdoctoral Associate at Yale University, and most recently a professor at Boise State University.
Expertise
Visualization literacy
Data visualization
Computer graphics
Research Areas
Visualization literacy
Mobile data visualization
Collaborative data visualization
Appointments
Department Chair, Computer Science
Education
University of Maryland Baltimore County, PhD in Computer Science, 2007
University of Minnesota, MS in Computer Science, 2001
Pune Institute of Computer Technology, University of Pune, BE in Computer Engineering, 1999
Prior Experience
Assistant Professor, Boise State University 2010-2012
Postdoctoral Associate, Yale University 2007-2010
Awards & Distinctions
Distinguished Teaching Award at the University of San Francisco for 2014-2015.
Best Panel Award at the IEEE Visualization 2010 conference for the panel "Perspectives on teaching data visualization". Co-Panelists were Tamara Munzner, Gordon Kindlmann, Daniel Keefe, Jason Dykes.
Best Panel Award at the IEEE Visualization 2009 conference for the panel "New faculty and postdoctoral fellows spill the beans". Co-Panelists were Jeffrey Heer, Gordon Kindlmann, Miriah Meyer.
Selected Publications
Firat, Elif E., Alark Joshi, and Robert S. Laramee. "Interactive visualization literacy: The state-of-the-art." Information Visualization 21, no. 3 (2022): 285-310.
Evaluating Bloom's Taxonomy-based Learning Modules for Parallel Coordinates Literacy, Ilena Peng, Elif Firat, Robert Laramee, Alark Joshi, Eurographics Conference (Education Track), 2022.
Helping Academically Talented STEM Students with Financial Need Succeed, Amruth N Kumar, Maureen Doyle, Victoria Hong, Alark Joshi, Stan Kurkovsky, Sami Rollins, IEEE Frontiers in Education Conference (FIE), 2021.
Barajas, Daniel, Xornam Apedoe, David Guy Brizan, Alark Joshi, and Sophie Engle. "Lessons Learned from Quantitatively Exploring Visualization Rubric Utilization for Peer Feedback." IEEE Computer Graphics and Applications (2022).
AGAMI: Scalable Visual Analytics over Multidimensional Data Streams, Mingxin Lu, Edmund Wong, Daniel Barajas, Xiaochen Li, Mosopefoluwa Ogundipe, Nate Wilson, Pragya Garg, Alark Joshi, Matthew Malensek, IEEE/ACM International Conference on Big Data Computing, Applications and Technologies (BDCAT) conference, 2020.