Faculty & Staff Achievements
In the Classroom, At the Club
Rhetoric professor takes center stage at standup comedy competition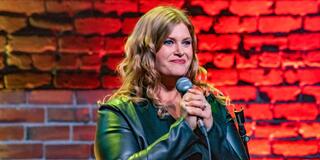 After just a little over a year working in standup comedy, Gina Stahl-Haven placed second in the 2019 San Francisco International Comedy Competition. She is the second woman in 34 years to place that high. The first was Ellen DeGeneres.
A Stage of One's Own
For Stahl-Haven, public speaking has always been a path to empowerment. But the adjunct professor of rhetoric and language wasn't always a professor, let alone a comedian. She got her start performing in theater.
"I was 11 when I first did a stage play. Then I joined an improv group in college and that became everything for me," she said.
Stahl-Haven is a guest performer with the Un-Scripted Theater Company, an improv group in San Francisco. She's also a birth doula, a woodworker, and a maker and seller of homemade food products.
So why not standup comedy until now?
"I never did standup before because it terrified me," she said. "As someone who's in communication, I know that it's one of the only forms of communication where there is one right response­ — out-loud laughter. If no one laughs, you're failing right there in live action."
But it's her background in rhetoric that gave Stahl-Haven an edge in the comedy competition.
"A lot of the comedy I write is rooted in the research I've done," she said. "I have a joke about how women are always anticipating being murdered when they go to the bathroom alone. There's obviously a message there: the world is unsafe for women. I could talk about that concept with feminist rhetoric and it would really be the same conversation."
Seriously Funny
Until this semester, comedy was Stahl-Haven's best-kept secret — none of her students knew. But when she entered the San Francisco International Comedy Competition, she had to fess up.
"I never suspected she was a comedian, but when the secret did come out I was not surprised at all. She is super witty," said kinesiology major Alana Kihoi-Richardson '20.
"I use a ton of humor when teaching. Public speaking is a really stressful class for students," said Stahl-Haven. "A stuffy classroom is not going to help students to grow and feel comfortable as public speakers."
When Stahl-Haven gives examples in class, "she'll tell funny stories," said international studies major Maya Oleary-Cyr '23, "but I just thought she was a cool, funny professor."
All told, said Stahl-Haven, comedy informs her teaching and vice versa.
"I never consciously try out material in my lectures, but sometimes my lectures show up in my jokes," she said.
"The comic frame reaches people who are not going to be reached by the academic frame. A lot of comedy audiences are not coming into a college classroom, they're not watching a TED talk, they're not reading a scholarly journal article," she said. "If a comedian is bringing up things of social relevance, suddenly there's a whole new audience getting that message."