Equipped to Lead and Succeed
Building a Gaming Empire
USF grad thrives in the male-dominated world of esports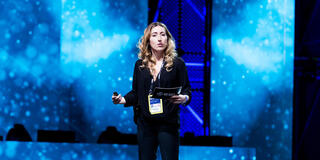 When Kalie Moore '06 moved from a small town in Nevada to attend USF in 2003, she was only 16, but she wanted to see the world — and San Francisco was her first stop.
She didn't waste any time, finishing college in three years and then taking off to travel. A sociology major, Moore recalls her time at USF as a time when she worked hard.
"I went to college really young. I started when I was 16 and I finished when I was 19. And I worked throughout the whole thing as a waitress," she said. "The college experience was just kind of like a whirlwind since I did it in three years while working a lot."
Today, Moore lives in Berlin, where she co-founded the world's first communications consulting firm dedicated to video gaming, or esports. It's one of the only esports companies that is owned and led by women.
"There are more women gamers, streamers, and content creators, but esports companies themselves are male-dominated," Moore said. "I didn't even think it was possible to have a woman-owned company in esports."
Moore's firm, The Story Mob, helps companies, brands, and teams connect with esports fans around the world. .
Berlin Bound
When Moore graduated from USF, she "took a leap of faith and started traveling in Europe," she said. "I thought I would just go for six months, but I ended up traveling for almost three years straight."
Moore fell in love with the city of Berlin and met her future husband there, before moving and joining the venture capital firm Bitkraft eSports Ventures, where she worked in communications and marketing.
When Moore attended her first esports tournament in Katowice, Poland, she found 10,000 people, many in cosplay, waiting in the cold for the arena to open. That was the moment she knew esports was for her.
In 2018, Moore joined two other women in esports, Anna Rozwandowicz and Nicola Piggot, to launch The Story Mob. The firm was profitable in a week and passed $1 million in revenue after seven months.
Esports Evolution
In the two years since The Story Mob's founding, Moore has seen esports evolve. At the start, she worked mostly with esports teams and game publishers. Now she works mainly with traditional sports leagues and teams that are entering the esports arena.
"One of our clients is the English Premier League for soccer in the U.K.," Moore said. "They launched an e-league. We were there to do the communications for that."
The Story Mob came to life, she said, because "we believe that esports fans are the most valuable community in the world."