Campus Life
Bringing Back the Hilltop's Heartbeat
A behind-the-scenes look at the return to campus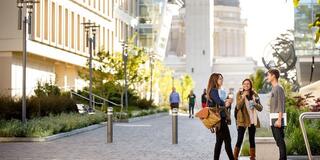 The start of the fall semester still means shopping sales to outfit dorm rooms, researching clubs and organizations, and making plans to meet up on campus. But COVID-19 means approaching back-to-school a little differently. Here, a second-year student, a student housing director, and a professor talk about how they're preparing to return to USF … or to arrive for the first time.
Emmanuel Flores Garcia '24, design major and architecture minor
Where will you be living? I'll be living off-campus across from Golden Gate Park, and I'll commute either on foot or on my electric skateboard.
What are you bringing with you to San Francisco? My life's essentials: running attire, my electric skateboard, a Nintendo Switch, my personal scrapbook, and a Canon camera.
What are you most looking forward to, after a year on Zoom? Meeting new and like-minded individuals and exploring the rich culture of San Francisco. Also, walking across campus and admiring Saint Ignatius Church every morning and afternoon.
What class are you excited about? Introduction to Architecture. I'm fascinated by how different architectural styles come to inhabit their respective regions.
Anything you're apprehensive about? The only thing I'm only worried about is locating my classes and not being late on the first day!
Torry Brouillard-Bruce, senior director of student housing
How are you preparing for the fall semester? The past 18 months have been consumed with planning for this August. That includes opening a brand-new residence hall, developing occupancy strategies (and adjusting them as health ordinances changed), working with facilities to get rooms and buildings that have been dormant for a year-and-a-half ready, and making sure we have systems in place to support a healthy and safe on-campus, residential experience.
What are you most looking forward to? The greatest attribute of on-campus housing is the vibrancy and energy you feel when you walk into student housing. We now get to bring the Hilltop's heartbeat back with the opening of our halls.
What's something people don't know about you? I grew up in a town of approximately 600 people. With the addition of Lone Mountain East, I now supervise a building larger than my entire hometown.
Johnathan Cromwell, assistant professor, entrepreneurship, innovation, strategy, and international business
How are you preparing for your fall classes? Last year, the pandemic forced me to try many new things with my remote classes — which gave me many new ideas about how to deliver content and assignments for in-person classes.
Do you practice your welcome speech? As both an instructor and researcher on creativity, I firmly believe in improvising! I like to go into a class knowing what my high-level goals are regardingwhatI want to communicate, but I like to leave the delivery onhowit's communicated to be a bit more spontaneous.
Do you have contact with your students prior to meeting them on the first day? I will definitely send a message before the first day of class to help them know what to expect on day one, which is usually a bit more casual and just an introduction to the course.
What are your favorite icebreakers? One is to go around the room and have students describe what they like to do that is particularly creative. The other is to ask them to bring an object to class that is something they think is "creative" or "well-designed.". During class, I have them hold conversations with each other, and during the debrief, I draw out key concepts about the class that we'll be covering.
What are you most looking forward to? Walking to work! I have not been very good about getting my steps in over the last year.
How do you normally feel before the first class? After it ends? Nervous at the start. Invigorated by the end.