Equipped to Lead and Succeed
Mayor Breed Leads the City Through Crisis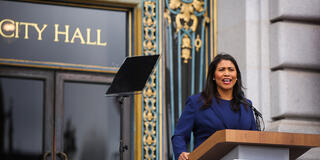 Mayor London Breed MPA '13, credited for enacting measures that have flattened the curve and slowed the COVID-19 infection rate in San Francisco, says her USF education is helping her manage the city during the coronavirus crisis.
"What I appreciate about my education is that it's allowed me to be confident in my abilities," said Breed in an April 22 interview with USF President Paul J. Fitzgerald, S.J., which is part of series of virtual events for the USF community. "Having a strong Jesuit education and being strong spiritually has helped me during this time."
Breed received national attention for her actions — declaring a state of emergency in February, working with all Bay Area leaders to have a united plan — that have helped keep cases of COVID-19 down in San Francisco.
"You took important actions early on," said Fr. Fitzgerald. "Your actions clearly saved lives."
There have been 1,233 coronavirus cases in San Francisco, and 21 people have died. New York City has seen 142,432 coronavirus cases, and 10,977 people have died.
"We wanted to get prepared here in San Francisco," Breed said. "When we declared a state of emergency, even though we didn't have one case confirmed, we knew it was only a matter of time."
The City Hall team has set up at the Moscone Center, where they can spread out and observe at least six feet of space between people.
An important part of the city's work, Breed said, is making sure people are treated equitably. An equity team works with the mayor's office and is led by Sheryl Davis MPA '11, executive director of the Human Rights Commission.
The team helps people living in public housing or families who need groceries but don't qualify for food stamps, she said. There have been pop-up food banks in neighborhoods where immigrants live, supporting those who may have lost jobs. And the team is coordinating grocery deliveries for senior citizens who can't leave their homes.
"Reaching out to people who don't have access — that is not only the spirit of USF but the spirit of our city," Breed said.
The city is also working to connect small businesses like nail salons and people in the artists' community with resources that might be available.
Breed established an economic recovery task force for the city, and Fr. Fitzgerald will serve on it.
The mayor said there will be a "new normal" when the city opens again. She said restaurants and small businesses such as hair salons and nail shops will be able to open with new requirements for gloves and face coverings.
For USF's graduating seniors, for whom commencement has been postponed because of the pandemic, Breed said there are opportunities to get involved — through volunteering or working in government or nonprofit organizations to help others.
"Remember the values of USF, to serve others," Breed said.
"I am a very proud graduate of USF," she said. "It just means a lot to have this incredible network of people who have the kinds of values that have been instilled in us because of our Jesuit education. And to use that and serve others is incredible. This is needed now more than ever."