Brady Lauer '21
Communication Studies major
Image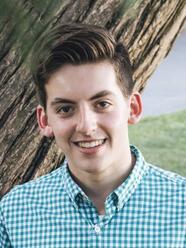 What made you want to become a Communication Studies major?
I always knew that I wanted to major in Communication Studies because I had dreams of becoming a journalist once I graduated from USF. I spoke with many COMS majors as my freshman year kept on progressing and heard nothing but rave reviews and comments about the department, professors, courses, and other students. Once I officially declared myself as a COMS major, a sense of excitement came over me and I have never regretted that decision.
What has your experience been like within the department?
I have been extremely lucky because my experience within the COMS Department has been the greatest thing that I could have ever asked for and the best decision I think I have made while attending USF. I always say that the COMS Department is the best department at USF, and it really is true. We have the most supportive professors at USF, the students are extremely kind and some of the most intelligent people I have ever met.
What was your favorite class you took and why?
It is extremely challenging picking just one class because I can honestly say that every COMS course I have taken has been so rewarding in many different ways. But, I will say that my favorite course has to be Nonverbal Communication (COMS 350) with Professor Doohan that I took Fall 2020. In this class, we focused on the role that nonverbal communication plays in our daily lives and everyday interactions with people we know or strangers we encounter. Since it was taken via Zoom, Professor Doohan had to update our curriculum significantly to accommodate to the pandemic restrictions that were set by California. It felt like we were in an actual classroom setting rather than on Zoom getting brief glimpses of each other's surroundings. I am forever grateful to all of those students and Professor Doohan because I have memories that I will never forget.
What advice would you give undeclared majors who are thinking about studying COMS?
If you are still unsure of what path you are wanting to take for your major, do some extensive research on the COMS Department, email one of the professors, and ask them questions about the major itself. Do some research on the courses that are offered before making a final decision, and if you need some extra guidance refer to your CASA advisor. It is important to do some extensive research into a major before making any final decisions, but I and all of the students and professors in the department can promise you that choosing COMS will be one of the best decisions you make at USF.