San Francisco Advantage
Black Techies Unite
Student finds advice and inspiration at AfroTech conference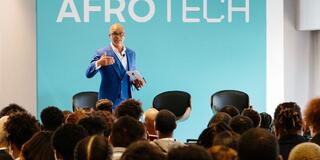 I have seen the future and it looks black.
At the fourth annual AfroTech conference Nov. 7–10 in Oakland, I joined more than 10,000 people who gathered to network, workshop, and discuss the black experience in the technology industry.
Allies in Tech
As a first-time attendee, I didn't know what to expect of the conference. But on arrival I immediately felt at home — and inspired.
I was surrounded by people who looked like me and who work in tech, or would like to. I also discovered that many of us are one of a handful of minority employees in our respective workplaces.
At the conference, corporate giants including Apple, Amazon, Facebook, and Microsoft held networking events and recruiting sessions. For a USF student like me, attending a conference like AfroTech is a benefit of going to school in the Bay Area. I'm majoring in Business Administration, Entrepreneurship and Innovation, and it really opened my eyes to the opportunities in tech and entrepreneurship.
In a panel discussion, three Apple employees — senior editor Stacy-Marie Ishmael, designer Wyatt Mitchell, and group creative director Arem Duplessis — talked about how they leveraged their creative abilities into careers in the technology industry without having backgrounds in tech.
In a business pitch competition, a young woman who pitched her telehealth app idea walked away with $10,000 to continue to expand her vision.
And in a workshop hosted by Mandela Schumacher-Hodge Dixon, founder and CEO of Founder Gym, I learned how and when to raise money from investors to scale a business.
Doubts Diminished, Hope Affirmed
AfroTech helped ease my doubts about inclusivity and my fears of isolation that come with the low diversity rates in the tech industry. Watching people from the likes of Black Girls Code and the Black Googler Network roam the convention center reminded me that I am not alone in this tech space.