San Francisco Advantage
Better Health is In the Mail
Two biotech graduates help develop a new test to battle diabetes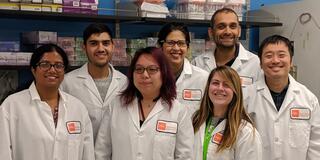 About 42 million women in the U.S. are prediabetic, and 88 percent of them don't know it. But two recent USF graduates have helped develop a test that detects prediabetes — and may change lives.
Melissa Low '19 and Urano Esquivel '19 played key roles in developing the "tampon test" produced by Droplet Health, a San Francisco biotech startup, while they were students in the professional science master's in biotechnology (PSM) program and interns at Droplet.
The test is simple. Patients send to Droplet Health a tampon they've used, in a mailing envelope supplied by Droplet. Droplet analyzes the menstrual blood for signs of prediabetes. Low and Esquivel co-authored a paper showing the test's success.
"This is the first-ever health diagnostic paper that shows the working diagnostics of using menstrual blood," said Droplet co-founder and co-CEO Phillip Fung.
Changing Lives
The benefits of the tampon test are clear to Low.
"For someone who is diabetic — and I am — A1C blood tests are usually quarterly," Low said. "It's costly and inconvenient, especially if you have poor medical insurance. Being able to do it monthly, noninvasively, with something you'd throw away, is pretty nice."
For diabetics and prediabetics, monthly tampon testing can track the health effects of exercise or changes in diet.
"If half of the people with prediabetes in the U.S. are women — 42 million — those are the people whose lives could be changed by monthly monitoring," said Droplet co-founder and co-CEO Reshma Khilnani.
The test kit is currently available to hospitals. Cost is negotiated on a per-patient basis.
Going Global
"We're hoping that this test will eventually branch out to other parts of the world where it's harder to get blood draws, or where blood draws aren't available," Esquivel said.
And why stop at diabetes? Now that Droplet has a test kit that detects elevated A1C, there is room to explore detecting and monitoring other diseases in menstrual blood, such as hepatitis C and HIV, Low said. "Droplet collecting these diagnostics could do a lot to contribute to the scientific base."
Droplet Health recruits USF students through the PSM's internship program. Fung and Khilnani hired Esquivel full-time following his graduation, and have continued to recruit USF students. Low now works at Guardant Health in Redwood City.
Low and Esquivel "basically ran our laboratory," Fung said. The two designed experiments, ran experiments, processed samples, and brainstormed with the rest of the Droplet team. "They were indispensable."