Giving
Celebrating the Best of Student Success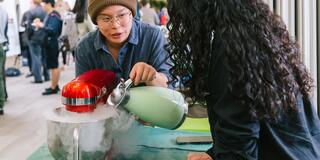 The University of San Francisco hosted the first-ever Best of Student Success showcase as part of the CelebrateUSF weekend, bringing students, alumni, families, and community members together to highlight top academic research and community programming.
Over 150 undergraduate and graduate students representing each of the schools and college presented posters, talks, and performances to a crowd of nearly 250 attendees and a panel of volunteer judges. 
The event featured rigorous academic research and creative projects to illustrate top-tier scholarship and co-curricular collaboration. The diverse topics spanned everything from Racial Microaggressions on Dating Apps to Presumptuous Orientalism in Economic Theories.
"The Best of Student Success was an exciting addition to the CelebrateUSF festivities. It allowed us to kick off the weekend by showcasing some of the wonderful research and service activities engaged in by our students and organizations on campus," said Don Heller, University Provost and Vice President of Academic Affairs. "It demonstrated the impact USF has not just here in the Bay Area, but across the nation and beyond." 
Volunteer judges, representing alumni, parents, and friends of the university, awarded four Provost Awards to winning entries in two categories, Academic Excellence and Realizing the Mission. Winners received a $2,000 stipend to support future student research and activities within the department that sponsored their entry.
One of the winners, Margaret Peterson, received an Academic Excellence Award for her research on the effects of meditation on high-achieving high school students. Margaret described the award as a tremendous honor, and said that the award "validates the importance of research on the social emotional well-being of high-achieving students." 
Sascha Rosemond '15, MNA '19, attended the event as a volunteer judge. "I loved hearing why each of the students chose their research topic," she said. "They were so passionate and invested in their work and that was awesome to witness. I felt inspired and really proud to be an alumna."
Another volunteer judge, Margaret Doherty-Simor '84, described the event as full of student innovation, and positive risk-taking. "The energy in the room was astounding," she said. "How lucky to be studying at USF in a city at the center of innovation."
---
Winners of the Academic Excellence Award
Margaret Peterson, School of Education 
Effect of Meditation on Social-Emotional Well-being in a High Performing School
Juliana Carmody, Mauricio Diaz de Leon, Jean Pierre (Ubu) Ndagijimana, and Mick Washo, Co-Curricular 
Solidarity in Action: Fighting Food Waste 
Winners of the Realizing the Mission Award
Jonathan Balisi Manalang, School of Nursing and Health Professions 
Spoken English and Sign Language Simultaneously to Understand D(d)eaf Culture 
Richard Garcia, Hailey Miller, Anne Yamamoto, and Hannah Weeks, Co-Curricular  
Volunteering at 111 Taylor, a Re-entry Facility 
Thank You to the Volunteer Judges
Julia Akpan '00
Kathy Brown '70, MS/MBA '89
Margaret Doherty-Simor '84
Roseann Galvan '91
Rene Hunter '95, MS '03
Barbara McGettigan '63
Maureen O'Hara '72
Jenni Owen-Blackmon, Friend
Phil Peterson, Parent
Sascha Rosemond '15, MNA '19
Russell Spektor, Friend
Phil Ward '68, JD '71
Mollie Westphal '96
Leland Wong '76 MBA '80
Best of Student Success was part of the CelebrateUSF weekend, a university-wide celebration that served as the official public launch of Changing the World From Here: Campaign for the University of San Francisco.