Campus Life
Back to the Classroom
Students pave the way for a return to campus in the fall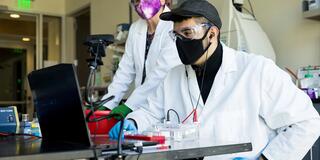 If you're wondering what a HyFlex class is like, you could ask Andrae Ladores and Alexandra Pavel.
The lab partners meet twice a week this semester in Room 205 of the Lo Schiavo Science Center. There, they work on labs like gel electrophoresis, a method to separate samples of DNA fragments, in their molecular genetics and biotechnology class.
Except Ladores is in Fresno. And Pavel is in the lab.
"I actually think it's going great," said Ladores '22, a biology major. "It's great to have a partner who is there."
For Pavel '22, also a biology major, the class took a little getting used to. Being around others in the lab made her feel uncomfortable at first. But the strict protocols helped, she said.
Students and faculty are physically distanced, spread out at lab tables, and there are rules — use one door for entrance; one for exit; wear masks and lab coats, gloves, goggles; and use lots of hand sanitizer.
Pavel said that she likes working with Ladores. Often, she feels like she's put in the instructor role, showing him how the experiments work.
"I feel like I'm an octopus, with two different cameras on goosenecks, and a lot of movements," she said. "I feel like I've learned a lot."
What is HyFlex?
With the anticipated return to primarily in-person instruction this fall, HyFlex classes are one way to help make sure everyone stays safe in the pandemic.
In a HyFlex class, some students attend class in person while others attend via Zoom. The professor is always in the classroom. Whether they're in the classroom or on Zoom, students get to see and talk to each other face-to-face. 
Professor Mary Jane Niles, who teaches the lab that Ladores and Pavel are taking, said it would have been difficult to remotely teach all 11 students in the class. The lab is a hands-on experience, she said.
USF obtained approval from the San Francisco Department of Public Health to have students on campus this spring semester for two lab classes, Niles' class and a graduate biotechnology class, as well as in-person nursing labs and another biotechnology course. The participants are among the first students and faculty on campus since the pandemic struck San Francisco in March 2020. 
"We are providing important training for many who are working now or who will be working in the biotech industry, an 'essential' sector," said Associate Professor Cary Lai, who teaches one section of the biotechnology graduate students. "In fact, many of our students right now are working on COVID-related vaccines, therapeutics, and diagnostics." 
Lai's class has 15 students, and only one student is remote.
No one has caught COVID-19 in either class.
Science is Happening
For Ladores in Fresno, the main concern was whether he would learn if he joined the lab remotely. He is interested in research work and eventually attending medical school.
"My partner [Pavel] can switch on the camera, and she points it toward her hands and shows me what she's working on in the lab," he said.
The partnership has benefited both students, Ladores said. Just the same, he looks forward to returning to campus in the fall, where he can meet with classmates and work with them in person.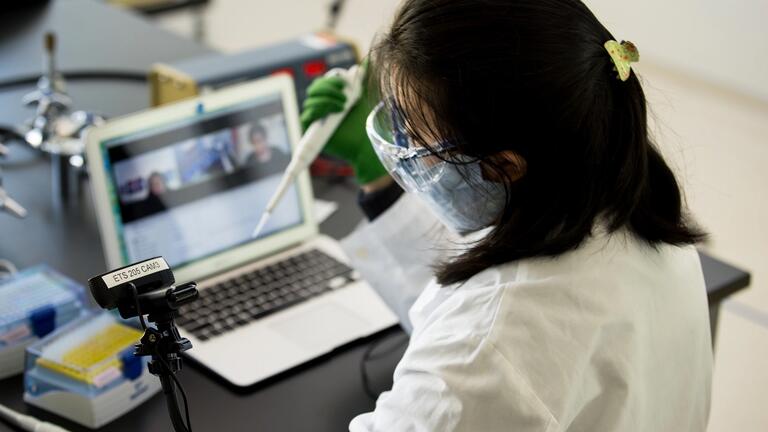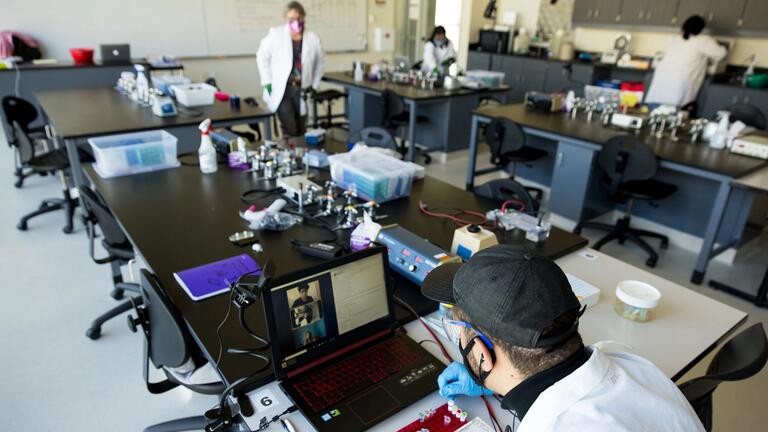 Student conducting experiment and sharing with online lab partners.
A view of Professor Mary Jane Niles' HyFlex biotechnology lab class.