Giving
USF Student Finds Her Home on the Hilltop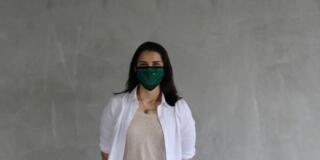 Earlier this year, Magdalena Macias '24 shared her story with the USF community on the obstacles her family faced due to COVID-19. While tuning into Zoom classes from home in Arkansas, she dreamed of the day when she would finally visit San Francisco and see the university in-person for the first time. Today, Macias can say it was well worth the wait. 
Freshman Year Online
Macias credits her successful first year at USF to the Muscat Scholars program, which connected her with a network of supportive mentors, peers, and resources.
"I would not be where I am without the doors that Muscat Scholars opened for me," she said. "Through the program, I got to know Mary Dutton, my pre-health professions advisor who introduced me to contact tracing, and I got involved with the Magis Emerging Leadership program."
These positive experiences fueled Macias' growing excitement to return to in-person learning.
Touching Down in San Francisco
"August 7 was my first day. We were driving around and I saw the Lone Mountain steps and I said, 'Oh, wait. I know that place. I have pictures,'" Macias said. "It's funny because it just felt so surreal. When I first got here, it still felt like a vacation or that I was going to go home. I had to keep reminding myself that no, I'm here to stay for the next three years."
After getting settled on campus, Macias spent the first weeks reconnecting with people she initially met online. One of her professors from the previous semester, Christina Tzagarakis-Foster, recognized Macias and welcomed her in with a hug.
"I was so touched that she remembered me and that a lot of my other professors had as well. That's what I love about USF. We are all more than students, professors, and staff. We are human beings. Everyone is approachable and wants to support you in every way they can," Macias said.
What's Next?
This semester, Macias is staying engaged as a resident advisor in Lone Mountain East, a peer health ambassador for Dons Helping Dons, and a volunteer for Empower Me Academy.
She hopes to continue setting new goals for herself, exploring the city, and prioritizing time for her mental health.
"I have all of these goals that I want to take to the next level and that's what Changing the World From Here is all about. Just because we are undergraduates, it doesn't mean we have to wait until we've finished college to start getting involved. I'm trying to set change in motion right now, and at USF I have the power to do so," Macias said.
To support students like Macias, consider making a gift in support of Changing the World From Here: Campaign for the University of San Francisco ».