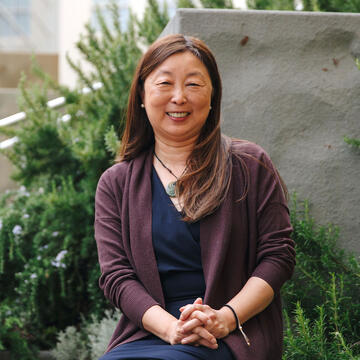 Eileen Fung
Interim Provost and Vice President of Academic Affairs
Lone Mountain Rossi Wing 420
Biography
Eileen Chia-Ching Fung is the Interim Provost and Vice President of Academic Affairs. Provost Eileen has dedicated over 25 years to USF, including significant time in academic leadership.
Interim Provost Fung was awarded the James Irvine Dissertation Fellowship in 1997, and hired as a full-time faculty member in the Department of English in 1998. She served as chair of the English department and director of the Asian American Pacific Studies Program before her appointment as associate dean of arts and humanities in 2010. She became senior associate dean in 2019 and interim dean in 2021. As a first-generation college student from a Chinese immigrant family, she advocates for an equitable, mission-driven, community-engaged, and student-centered education.
To that end, Interim Provost Fung assisted with securing the endowment that established the USF Honors College in 2018, and served as its founder and associate dean. She was also instrumental in establishing the Privett Global Honors Scholars Program within the Honors College. The program will support faculty development of global educational curriculum and provide funding for student immersion and study abroad opportunities. She is one of the principal investigators of a multi-year, $680,000 Andrew W. Mellon grant to support matriculation of underrepresented and underserved students from the Foothill-De Anza Community College District to USF.
After receiving a BA in English literature with a minor in Asian American studies from UC Los Angeles, Interim Provost Fung earned a PhD in medieval English literature — with specializations in feminist and post-colonial theories and ethnic American literature — from UC Santa Barbara. Her research interests lie in examining the intersection of literature and identity through cultural practices.
Research Areas
The intersections of race, gender, sexuality, diaspora, and post-colonialism in medieval English travel narratives
Chinese and Taiwanese American literature and film
Her current research explores (im)migration, diaspora, and the hybridization of culinary cultures in Asian and Asian Pacific American foodways
Appointments
Associate Dean for Arts & Humanities
Education
PhD, University of California, Santa Barbara