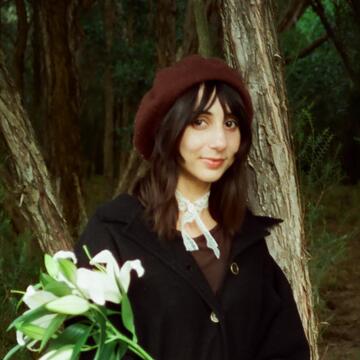 Alexa Bonomo
Adjunct Professor
Part-Time Faculty
Instructor
Biography
Alexa Ann Bonomo is a tech artist and scholar with a deep interest in methods in preservation and archiving with an extensive skillset in creative technology. Her creative work primarily lives on the internet and other ephemeral settings in the form of net art, creative writing and other community driven projects. Her art practice is experimental across mediums of creative coding and traditional handmade craft, primarily new methods in printmaking and fiber arts. She is currently exasperating in existential thought about how she could "revive the Arts & Crafts movement, but for the internet" and rapidly prototypes small artifacts in the form of websites or large scale installations. Alexa attempts to bestow light upon the unknown of vulnerable data that is emitted from one's self. Allegorical imagery invokes serenity, safety and charitable love for flora and fauna. She intermixes the use of born-digital art and handmade craft by handcoding websites (pure html/css/js), handmade print materials(cyanotype, block printing, fiber arts) and casting light(projection mapping). Alexa has taught various alternative and university level courses in digital design and creative coding. Currently she works on a few projects  – she curates programming and teaches with Index, works on archiving and conserving new media works with Leonardo, and is an adjunct professor at University of San Francisco.
Expertise
Creative coding
Interaction design
Net art
Research Areas
New media arts
Internet poetics
Technoculture studies
Education
UC Davis, MFA in Design, 2020 
Towson University, BFA in Digital Art and Design, 2017
Prior Experience
Head of Education, Index
Operations, Leonardo
Adjunct Professor in Design, UC Davis
Selected Publications
"Data Visualization Codex Endogenous: Designing Interactive Self Data Visualization Tool for Trauma Impacted Individuals", Proceedings of International Symposium of Electronic Art, Barcelona, 10-16 June 2022.
"Using Metaphor and Naturalistic Geometry to Visualize Quantified Self Data", Proceedings of International Symposium of Electronic Art, Montreal, 13-18 October 2020.