Global Perspective
From Yoga to Video Games to the Japanese Emperor: Bridging Cultures through Public Programs
This semester, the Center's vibrant public program series presented a diverse line-up of films and speakers designed to engage our audiences with insightful presentations that inspire us to consider the diversity of the Asia Pacific and its global influence.
Screening the Film "Tokyo Idols"
Girl bands and their pop music have become a phenomenon in contemporary Japanese life. The Center opened its fall programming with this eye-opening film that follows an aspiring pop singer and her fans to reveal an obsession with young female sexuality and a growing disconnect between men and women in contemporary Japan. Filmmaker Kyoko Miyake takes a provocative look into the Japanese pop music industry and its focus on traditional beauty ideals, confronting the nature of gender power dynamics at work.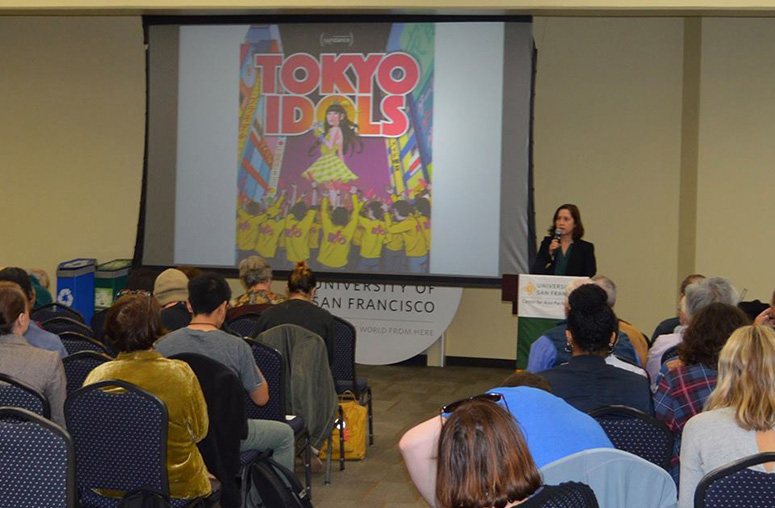 Consul General of India Amb. Venkatesan Ashok Speaks on "Soul Diplomacy"
From yoga to sublime philosophical texts, and religious ideas to cultural values, the flow of Indian ideas and concepts to the west has had lasting global impacts. Amb. Venkatesan Ashok, Consul General of India to the U.S.A. (West Coast) discussed how this dissemination did not happen by plan or intent – instead Indian ideas and practices were embraced because of the value people saw in absorbing and retaining them.
Introducing Philippine Art at the Asian Art Museum
Natasha Reichle, Associate Curator of Southeast Asian Art at the Asian Art Museum provided an insider's look at the current exhibition, "Philippine Art: Collecting Art, Collecting Memories." The exhibit celebrates the rich diversity of Philippine art with 25 compelling works recently added to the museum's collection. Expressive indigenous carving, jewelry and textiles; Christian devotional statues from the Spanish colonial period; postwar genre and landscape paintings; and contemporary works come together in this intimate exhibition to tell fascinating and complex stories of the Philippines.
Connecting Cultures Via Video Games
On Oct. 19, 2017, the Center for Asia Pacific Studies partnered with the Consulate General of Japan in San Francisco to present "Gaming Insight: Video Games and Japan." This event, featuring Michael Evans, video game developer and publisher at Japanese video game giant Capcom, provided insight into a career path that that utilizes Japanese language skills in this growing Bay Area industry. Evans shared how his understanding of both Japanese and US culture has contributed to the development and success of video games like Street Fighter V and more. Katherine de León (USF alum and General Manager at Zynga) facilitated the discussion as a moderator with over 10 years of experience in online media.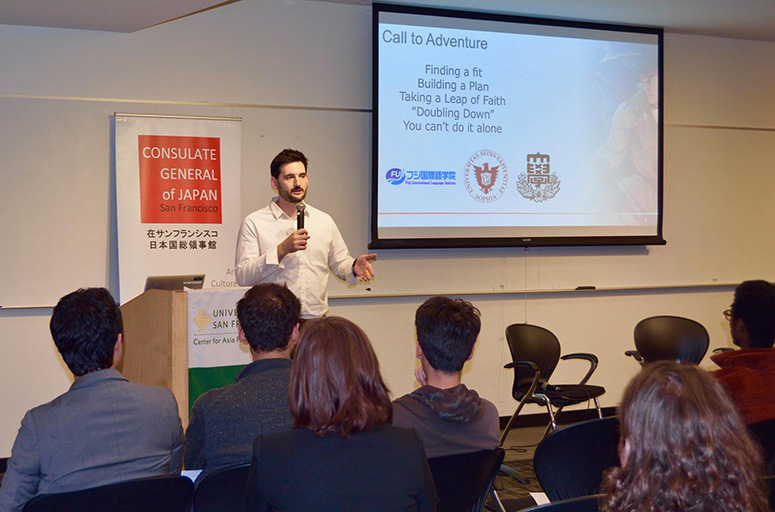 Showcasing Korean Fashion Influences
Continuing to showcase the wonderful exhibits of the Asian Art Museum in San Francisco, the Center welcomed Hyonjeong Kim Han, Associate Curator of Korean Art, Asian Art Museum to campus on November 9, 2017. Attendees learned about the "Couture Korea" exhibit that showcases historical Korean fashion and its modern reinterpretations at a moment when young Seoul-based designers are making the leap to the global stage and international haute couture is finding inspiration in Korean art and culture. Discover the past, present and future of Korea in this first U.S. exhibition to consider Korean fashion as an expression of social and cultural values.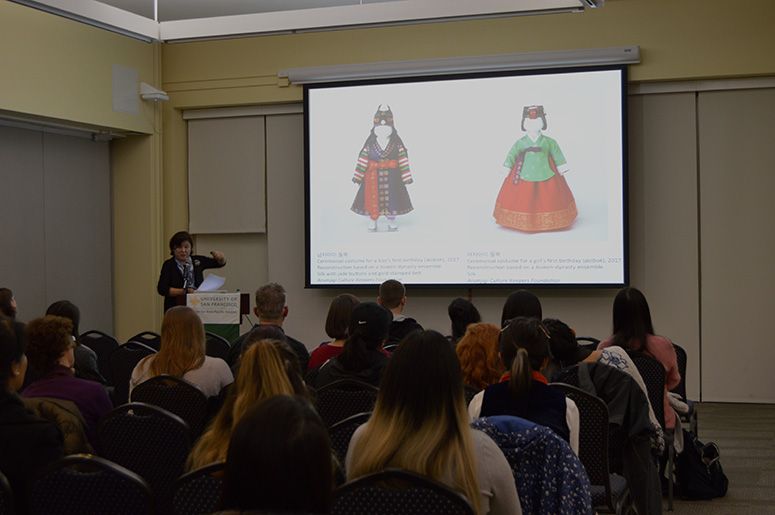 Japan's Emperor: How Does His Retirement Affect the Nation?
The Center closed out its fall programming with a very timely lecture on the Japanese Imperial House, "The Political Right's Interpretation of Japan's Imperial House: Abdication and Other Issues." Just two days after Prof. Ken Ruoff (Portland State University) spoke on the various debates that have recently reopened about the monarchy, the Japanese government announced that Emperor Akihito will abdicate in April 2019. Thanks to Ruoff's discussion regarding the role of the emperor in Japan, the issues raised by abdication, and the reasons why women are not permitted to serve as the national symbol, our audience gained a new understanding of the importance of this announcement and its relevance for Japan.