Campus Life
Welcome to a Year Unlike Any Other
Convocation kicks off the academic year with support from Nancy Pelosi, Gavin Newsom, and London Breed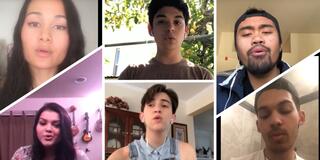 More than 1,420 students, parents, alumni, faculty, and staff tuned into a first-ever USF video convocation on August 27 that featured a California trifecta of political leaders giving students a rallying start to the fall 2020 semester.
"I imagine, if you're like me, this is not what we expected to kick off our new school year, but one thing is certain — we live in a dynamic and changing environment and there is no greater education you'll receive in order to become more resilient and more capable as a human being than the education you'll receive at USF," said Gov. Gavin Newsom, a graduate of Santa Clara University, a Jesuit Catholic school like USF.
Convocation is usually held on campus for students, faculty, and staff, but in this season of pandemic and shelter in place, the event was livestreamed and opened to parents and alumni — a larger audience than could fit it into any physical space on campus. 
At the start of the event, USF President Paul J. Fitzgerald acknowledged indigenous community members, noting that USF's main campus sits on the land of the Ohlone people. 
He also acknowledged systemic racism in the United States.
"This week in Kenosha, another Black man — Jacob Blake — shot by police," Fr. Fitzgerald said.
"These are the times that try our souls."
Guest speakers provided a hopeful note for students. San Francisco Mayor London Breed MPA '13 said, "As a graduate of USF, I know we will overcome the challenges that we face. And I know the value of a Jesuit education and its basic principles: independent thinking, care for the whole person, and a commitment to justice and service."
Nancy Pelosi, speaker of the House of Representatives and San Francisco's congressional representative, assured students that congress is working to support them.
While most students are learning off campus during the pandemic, John Iosefo '21, president of the Associated Students of the University of San Francisco, reminded them they will return one day.
"This fall semester, take USF wherever you are. Create USF wherever you go. Spread our community around the world," Iosefo said.
"Then, when the quarantine lifts, come back," he added. "We'll be here, stronger than ever."