Global Perspective
What Makes a Man in Asia? Conference Explores Definitions of Masculinity Both Historically and Today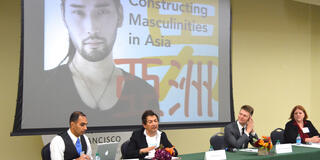 On Nov. 3-4, 2016, the University of San Francisco Center for Asia Pacific Studies hosted "Constructing Masculinities in Asia." The conference brought together 17 leading and emerging scholars to discuss and share the latest research in the social sciences and humanities on issues related to how masculinity is and has been defined in the Asia Pacific.
The conference was unique due to its interdisciplinary focus, bringing together scholars in fields ranging from history to anthropology to literature to sociology and gender studies who are researching masculinity in new and inventive ways. In addition, the scope of the conference was broad and encouraged the study of masculinity in societies and culture across Asia in it different forms and contexts. Participants were invited to consider how is masculinity defined and/or constructed in Asia and how these masculinities and/or expressions of manhood changed over time. During the two day conference, scholars shared their research on important themes related to the study of masculinity in Asia, i.e. corporate masculinity in East Asia, masculinity and the nation, perceptions of masculinities in contemporary East Asia, and masculinities and the media.
Highlights from the conference included an examination of how globalization has influenced constructions of masculinity and led some Chinese men to look to Confucianism and the ideal of the junzi for inspiration. Participants also discussed how definitions of success can become intertwined with masculinity and how financial crises can affect how men view their masculinity. The role of mass media in propagating ideals of masculinity was explored by scholars studying masculinity in Korean dramas and Indian films. Papers also explored the role played by women and their desires in the construction of masculinities. While others shared research on the role that sex plays in determining if one is considered masculine and how some Japanese men are creating new forms of masculinity that don't involve sex. Presenters also noted how masculinity became militarized as nations such as Japan and Korea strove to recover and develop economically post war and how today Asian men are reconstructing masculinities of the past as their model. Aside from men as workers, participants also shared how organizations worked to transform masculinity among boys as scouts (in China) and among men as fathers (in Japan and Korea). Overall, we discovered that there is considerable diversity in the production of new forms of masculinity in Asia today.
The keynote address, "Chinese Masculinity Ideals in a Globalized World," presented by Kam Louie (Honorary Professor of Hong Kong University and University of New South Wales). In his presentation, Louie revisit some of his 2002 wen-wu (cultural attainment-martial valor) paradigm as he examined the transformations that Chinese masculinity ideals have undertaken in the modern era.
Asia Pacific Perspectives, the USF Center for Asia Pacific Studies' peer-reviewed, indexed, online journal, plans to publish a special issue on definitions of masculinity in Asia based upon papers and themes from the conference. Scholars interested in this special issue may visit the journal's website at https://www.usfca.edu/asia-pacific/perspectives.
This conference was chaired by Melissa S. Dale (Executive Director and Assistant Professor, USF Center for Asia Pacific Studies). Funding was provided by the University of San Francisco Center for Asia Pacific Studies and co-sponsored by the USF MA in Asia Pacific Studies and Asian Studies programs. For more information about the conference, contact Amanda Dzida at ahdzida@usfca.edu.