Equipped to Lead and Succeed
USF Truman Scholar Wins for Leadership, Service
Nicole Manglona Torres, a graduating senior majoring in sociology with a minor in legal studies at the University of San Francisco, has been named a 2010 Truman Scholar.
Image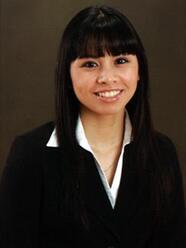 Torres, the first USF Truman Scholar since 1997, was overwhelmed with emotion when Jennifer Turpin, dean of the College of Arts and Sciences and incoming USF provost, stopped into class March 29 to surprise Torres with news of her achievement.
"The Truman Scholarship is a tremendously competitive and prestigious national award and we are very proud of Nicole's achievement," Turpin said.
Each year, the Harry S. Truman Scholarship Foundation chooses from among an estimated 600 applicants nationwide who exhibit exceptional leadership potential and are committed to careers in government, the nonprofit or advocacy sectors, education, or elsewhere in public service. From those, about 60 are selected to receive scholarships worth up to $30,000 for graduate study, leadership training, and fellowship with other students who are committed to making a difference through public service.
Torres, a native of Saipan, part of the United States Commonwealth of the Northern Mariana Islands (CNMI) in the Pacific Ocean, is an indigenous Chamorro whose passion for issues that affect the poor and disenfranchised are informed by her ancestors' struggles to obtain cultural and economic independence.
"Since coming to USF, Nicole has distinguished herself as one of the most talented students in the (College of Arts and Sciences) and the university as a whole," said Patrick Murphy, politics professor and Truman Scholar faculty sponsor to Torres.
Torres' extensive community service includes volunteering at Glide Memorial Church, where she helps San Francisco's poor and homeless, tutoring Oakland high school students, and serving as co-president of the USF club San Quentin Alliance for C.H.A.N.G.E., a student group that seeks to help incarcerated men assimilate back into their communities as constructive and productive members of society – all while maintaining an A grade-point average.
She has also volunteered with the CNMI public defender's office and with Legal Services for Prisoners with Children in San Francisco.
She plans to use the scholarship to attend law school, eventually returning to Saipan to work in the public defender's office on cases involving voters rights, land ownership, and wage disparity.
Torres also plans to continue the Chamorro tradition of cho'gue i'maulek para otro-to, "do good for others," through service. Chief on her to-do list is rekindling her relationship with her high school alma mater as coach of the mock trial team – where she was first exposed to law – helping to prepare high schoolers for college entrance exams, and working with the local bar association to increase support and scholarships for university-bound Pacific Islanders.