Campus Life
USF Makes Princeton Review's 2021 Top Colleges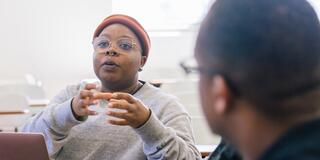 The University of San Francisco is one of 386 colleges and universities recognized by the Princeton Review as a top university in the U.S., receiving high marks from students who were surveyed.
Princeton Review released its 29th annual college survey report on Aug. 18. The report is based on a survey of 143,000 college students.
USF has a "dedication to social justice," Princeton Review said, and the report praised the student learning experience at the university.
In class, students find "the opportunity to discuss, to ask questions, and to give feedback. It was not the professor's classroom, where the professor was controlling the classroom, it was our classroom, all of us together," a USF student reported in the survey. Another said students are encouraged to think for themselves in an atmosphere that "emphasizes acceptance, diversity, and critical thinking."
For this year's survey, Princeton Review asked college administrators about fall reopening plans, and USF was with the majority of respondents — 79 percent — that reported the semester would be online or operating with a hybrid approach of online and in-person classes.
The 386 schools in the report constitute about 14 percent of the nation's 2,800 four-year colleges. USF received a score of 90 (out of a possible 100) for quality of life, with one student respondent saying the university is "a culturally diverse community that teaches respect, dignity, and honor for all individuals."
The survey also indicated that the "lab facilities and library are great." Professors received a 90 percent rating for being interesting and a 93 percent rating for being accessible.
And, the survey said, the university offers plenty of support. "We have academic success advisers who help make sure we are on track with graduation, and help with major changes and choosing class schedules."
Featured in USF Magazine
This USF News story was published in USF Magazine, where you can find feature stories about university life, alumni Class Notes, and information about events at USF.