Equipped to Lead and Succeed
USF Grad Fights Ignorance With Empathy
In new art exhibit, she tells immigrants' stories to encourage civic action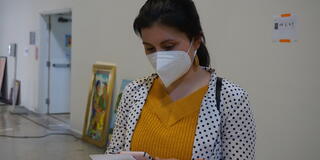 In a new exhibition at SOMArts Cultural Center, CARAVANA: Mobilizing Central American Art (1984–Present), curator Fátima Ramírez '12 shares stories of immigrants and debunks myths about their cultures.
With paintings, murals, films, photography, sculptures, and a children's book, Central American artists tell their stories. The aim of the exhibit is for the audience to act.
"It's about mobilizing the audience to have greater empathy and to then transform that into civic action," Ramírez said. "Hopefully you think about this exhibit the next time that you're voting."
Rebeldita Takes a Stand
In the children's book, Rebeldita the Fearless in Ogreland by Oriel María Siu, a little girl leads a revolution.
"The lead character called Rebeldita brings together all the kids in her neighborhood to say, 'Hey, have you heard they're separating families?'" Ramírez said. "Instead of being passive about it, the kids devise a plan for their parents to be released so that they can be reunited and then instead put the ogres in cages."
Throughout the exhibit, Ramírez and co-curators Mauricio Ramírez (her husband) and Salvadoran artist Josué Rojas fight common misconceptions about Central Americans. The notion that immigrants are dangerous, for example, strips them of their humanity, she said.
"Looking at what was happening in the news, we were hearing about the kids who were dying in the detention centers," she said. "That gave me the push to do this exhibition now. People aren't waiting to leave their home countries and come here."
Ramirez Finds Her Passion
When Ramírez attended USF, she had one goal in mind: to lift people through storytelling. She double majored in media studies and Latin American studies and minored in journalism.
"I am a first-generation college student, so for me, it was not just about excelling in any particular career, but how many people could I carry with me," she said. "A big part of where that all started was USF."
Ramírez said she had three experiences at USF that made her who she is.
"One was choosing USF specifically because I knew they had the study abroad program to El Salvador," she said. Ramírez is Salvadoran but grew up in the U.S., so she wanted to experience El Salvador for herself.
The second experience was on the Hilltop, where she founded a chapter of the Salvadoran Student Union.
"I came into contact with all of these other Salvadoran students with the same questions of identity, of wanting to know what happened in El Salvador that prompted our families to leave," she said. "That left the seed in my head of wanting to do something with that especially as I discovered different tools of storytelling through journalism and art."
The third experience happened during Ramírez's senior year, when she met Carlos Consalvi, a journalist from the Salvadoran guerilla radio station Radio Venceremos who presented a photo exhibition at USF. That weekend, she also heard him speak at the Mission Cultural Center for Latino Arts.
In the Q& A after Consalvi's talk, audience members asked Consalvi to take back to El Salvador traditional objects that they had carried with them to the U.S. The idea that Salvadoran culture did not belong in the U.S. didn't sit right with Ramírez.
"I thought, why are you gonna send it all [the objects] down there when there are so many of us here that could really benefit from that storytelling?" she said.
Right then, Ramírez's goal to tell stories took a new direction.
I want to create a Central American museum that is designed by and for Central American communities,"
she said. "These experiences all got me closer to one day opening that museum."
SOMArts Cultural Center is reopening for CARAVANA: Mobilizing Central American Art (1984–Present), March 10 through April 15. More information and tickets are available at SOMArts.org. A virtual opening reception will be held on March 11 from 6 to 8 p.m.