Passion for Justice
USF Collaborates on Dr. Martin Luther King Jr. Tribute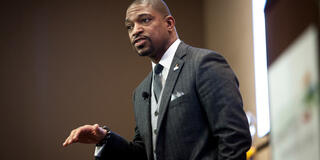 "There is no more marginalized community than our children and youth," said the Rev. Starsky D. Wilson, president of the Children's Defense Fund.
Wilson was keynote speaker at a Jan. 28 tribute to Dr. Martin Luther King Jr. presented by St. Louis University, USF, and Loyola University of Maryland, all Jesuit institutions. The theme of the online event was "Walking with the Excluded: Accompanying Young People in the Creation of a Hope-Filled Future."
If we are to transform this nation, America needs to work with its youth and support its children, Wilson said. The majority of children in the U.S. are children of color, he added, and they are therefore more likely to live in poverty.
It is this generation that provides America the opportunity to live out Dr. King's idea of a multigenerational kingdom,"
he said.
As part of the tribute, each university honored a community leader who works with children. USF gave its Outstanding Community Leader Award to James Spingola, executive director of Collective Impact in San Francisco, a nonprofit that works with partners, including USF, to serve children in the city.