Engaged Learning
USF Biology Upward Bound Hosts Hands-On Marine Biology Workshop
"Ewwww, gross! Look at how big the eyes are!" "I found the ink sack!" "Hey, is yours a male or a female?"
These were just some of the sights and sounds that could be heard in the John Lo Schiavo, S.J. Center for Science Innovation as science was brought to life here at USF as Upward Bound Math and Science (UBMS) Lead STEM Instructor Genievive del Mundo led 9-12 grade students through a hands-on squid dissection. For some students, this was their first experience with dissections and for many, this was their first time in a college lab setting. Students walked away from their Saturday STEM Workshop with a newfound appreciation for not only squid biology, but for a new cuisine as well. When the scalpels and forceps were sterilized and stored, the workshop was not over. As conservation and sustainability are essential themes in the San Francisco Bay area and beyond, UBMS students put these into practice as they utilized nearly all parts of their dissected squid and expertly prepared calamari. Paired with greens from the USF garden, the afternoon was complete.
Upward Bound Math and Science had the opportunity to take this hands-on extravaganza on the road during the Expand Your Horizons event at Skyline College. The STEM Team led close to 100 girls through the experience, along with the help of Leanne Wong, a current UBMS participant. The Saturday STEM Workshop series puts its college culture message to action with Jr. Bridge sessions that follow these hands-on experiences. Aimed at preparing high school juniors for the first steps in the college application process, these sessions explore not only the complex log-in steps for the common application, but prepare students to handle the potential rejections as well as acceptances inherent in this next academic phase. For UBMS Jr. Bridge students, the question is not "are you applying to college?" but "which colleges are you applying to?"
As the Spring 2015 Saturday STEM Workshop series comes to a close, UBMS students will work with students from the USF School Counseling program to perform a Self Directed Search where they will have the opportunity to deeply analyze their interests, talents, likes and dislikes as career and academic pathways emerge before them at this critical time. They will use this information as they prepare to apply for college next fall.
Next on the menu for UBMS students here at USF? Our Summer 2015 program kicks off June 8th, continuing the emphasis on hands-on, experiential STEM learning, along with a wide range of outdoor field experiences and close encounters with STEM professionals in the community. Find out how you can get involved with UBMS here at USF by contacting Tamar Powell.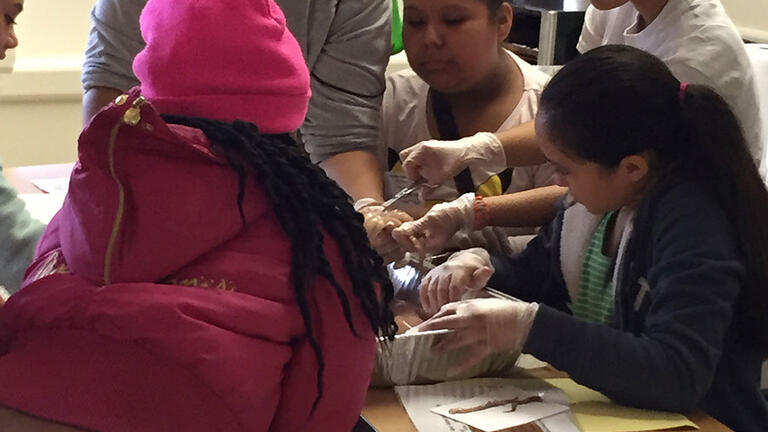 Upward Bound hosts marine biology workshop