Equipped to Lead and Succeed
Trailblazing Cancer Care From an Alum Ahead of His Time
Dr. Frank Meyskens '67 is a man ahead of his time. He's pioneered preventive cancer care and research since the early 1980s, driven by a belief there must be a better treatment than bombarding cells with toxic chemotherapy — which wreaks havoc on the body.
But growing up the son of a San Francisco plumber, Meyskens never considered applying to university let alone medical school. In high school, he spent more time in the principal's office than on the honor roll.
"I was intellectually disruptive," Meyskens admits. He figured he'd go into the military or enroll in community college. 
Mother started crying
Instead of shipping off to Vietnam, Meyskens landed at USF. On the recommendation of a high school counselor, someone from USF admissions interviewed him. Meyskens ended up applying and was offered a scholarship. 
"My mother started to cry, she was so happy; and my father invited his friends over to celebrate. It was such a surprise," recalled Meyskens, founding director of the Chao Family Comprehensive Cancer Center at U.C. Irvine from 1989-2012 and now director emeritus. 
At USF he excelled in science, conducting lab research on giant amoebas for USF biology professor Frank Felice. USF taught him discipline and the philosophy and logic skills he needed as a scientist, not to mention provided a solid moral foundation, Meyskens says.
"USF gave me an ethical construct that I have followed since," Meyskens says. "It also gave me the confidence to grow beyond the low-income, working-class bonds I was brought up under." 
Leading cancer prevention research & treatment
As a first-year physician at the University of Arizona Cancer Center, Meyskens met a young woman dying from melanoma. It shook him. "I wanted to save her," Meyskens says, his voice halting. "But there was nothing I could do. All that education, and I was helpless to affect the outcome." 
The encounter inspired him to focus on chemoprevention, an untested field at the time that challenged America's health care status quo — which favored funding new synthetic drugs and experimental treatments for advanced cancers (a pattern that continues). Today, Meyskens is among the nation's leading cancer research physicians, having won awards from the National Cancer Institute, the American Association of Cancer Research, the American Society of Preventive Oncology — and helped to cofound the International Society of Cancer Prevention. 
He's built a career on finding and developing natural, synthetic, and biological cancer treatments — including one that dramatically reduces the recurrence of polyps that can lead to colon cancer. He's done groundbreaking research on Vitamin A's ability to prevent normal cells from becoming cancerous and conducted laboratory studies that suggest that antioxidants have the capacity to protect skin from the sun's cancer-causing ultraviolet rays.
Putting cancer out of business
Where most oncologists believe that rooting out and suppressing cancer before it establishes and spreads is a secondary or tertiary treatment, Meyskens believes it should be primary. "With 600,000 American's dying from cancer every year, prevention and early detection and treatment are the best long-term options," Meyskens says.
He recalls one chemo-cancer oncologist asking him, "You're doing this prevention stuff until we find a cure, right?" "No, wrong," Meyskens retorted. "My intention is to put myself and you out of business."
While he hasn't yet put chemo-cancer specialists out of business, he has played a chief role in establishing the field of preventive cancer care. As a result, researchers and physicians are developing once unimagined but now mainstream approaches to prevention and early detection, including anti-hormone preventive compounds to reduce the likelihood of breast cancer and low dose daily aspirin to decrease total mortality from many kinds. 
Know someone with a powerful USF story? Let us know! usfnews@usfca.edu | Twitter @usfcanews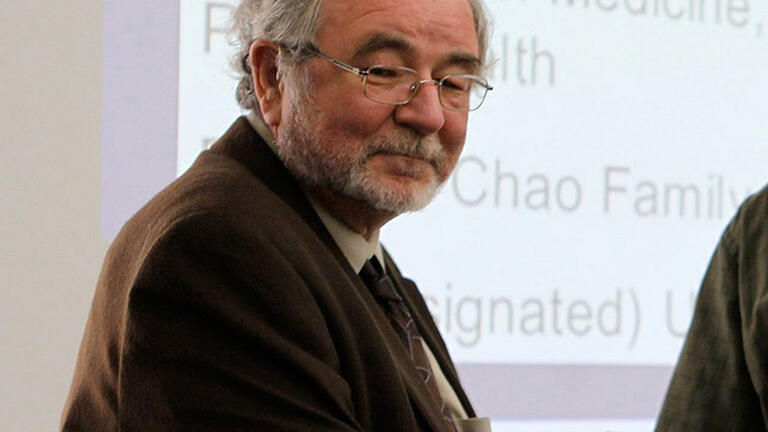 USF alumni Frank Meyskens '67 believes the best way to treat cancer is to prevent it.