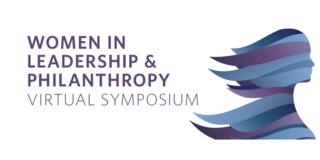 This year, the Women in Leadership & Philanthropy Virtual Symposium was held over two half-days on March 17 and 18, 2021. The theme, "Together We Rise," echoed throughout the sessions, highlighting how women can support one another to find success both in the workplace and in their philanthropic lives.
A roster of some of the Bay Area's most powerful women spoke about finding one's voice, overcoming obstacles, and paving the way for the next generation of leaders and philanthropists. This year's event also emphasized how the COVID-19 pandemic affected leadership and giving back.
"Over the years, Women in Leadership & Philanthropy has amplified over 2,000 women's voices and invited them to become engaged in our work as we strive to enlighten the opportunities for women to become stronger leaders in their communities and their businesses," said Cheryl Vargas, director, Women in Leadership & Philanthropy.
Symposium speakers shared their individual journeys, as well as advice on embracing opportunity in leadership and driving change.
Sarahi Espinoza Salamanca, founder of DREAMers Roadmap, a nonprofit app built to assist undocumented students in navigating higher education, discussed how her own experience as a Dreamer fueled a fire to make sure other young people did not feel as alone as she did.
"If I didn't have all the struggles and tribulation, I wouldn't have the grit and tenacity to fight for people like me," Espinoza Salamanca explained. "Our job as women who have 'made it' is to continue to help other women up that ladder. Mentor other women and encourage them to take this path."
Rising Together with Mentors
Many of the powerful women who spoke humbly attributed their rise to success to having strong mentors and partners who supported them along the way, ranging from family members to professors or professional mentors.
Lisa Sobrato, CEO of the Sobrato Family Foundation, one of the Bay Area's largest philanthropic organizations, credits her grandmother's civic involvement for instilling a generational tradition of giving back: "It started with my grandmother, Ann Sobrato. She was a true pioneer in a male-dominated industry... She inspired my dad to think of others who didn't have as much and through that modeling, she passed down the value of philanthropy in our family."
"My mother blazed the trail for me," said Espinoza Salamanca. "She had a second-grade education but taught herself to read and write. She taught me how to believe in myself and to have hope, that everything happens for a reason."
Women Lifting Up Women
Messages of support reverberated throughout the symposium — how to show more compassion due to challenges stemming from the pandemic and how to support the marginalized and the next generation of female leaders and philanthropists. 
"Listen to yourself. Trust yourself, trust your gut. Self-advocate," said Christine Coleman, MA '12, PhD, LMFT, and founder of SolSisters.org. "And if you need it, ask for help. Your community is here to serve you and to support you and if you're able to, offer that support to someone else."
These messages of hope remind women that in a year when humanity has felt isolated and faced by the barrier of what can sometimes be an impersonal video call, there are still women there to support one another, to show that women from all backgrounds matter and can make a difference.
Victoria Sanchez DeAlba '97, National News Emmy-winning former journalist, validated the experiences and dreams of many women, especially minorities: "The goal from early on was to help raise social awareness of our social contributions — that we are educated and that we are educators, professors, astronauts, scientists."
To support Women in Leadership & Philanthropy as the initiative continues to advance diversity and inclusion for all female-identified students and USF community members, contact Cheryl Vargas at (415) 422-2063 or cvargas1@usfca.edu, or make a gift to Changing the World From Here: Campaign for the University of San Francisco.