Giving
Make The World Your Stage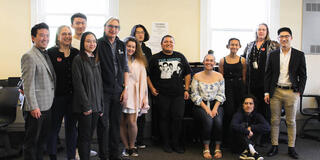 Being located right in the heart of San Francisco is already advantageous as it is, but USF is setting the bar even higher. At the recent Getty Visiting Speaker event, students had the chance to connect with renowned musician and conductor, Michael Tilson Thomas.
Tilson Thomas' success in the music industry is vast. He has won eleven Grammys, appeared on over 120 music recordings, founded the New World Symphony orchestral academy, and been awarded numerous times for his accomplishments as a conductor and composer.
But his passion isn't solely limited to classical music. "I worked with Ornette Coleman, recorded with Sarah Vaughan,went on tour with James Brown when I was twenty-something, and I just did a concert with Metallica… Over the years, I've done many musical projects," Tilson Thomas said.
It is because of Gordon Getty's '56 continued philanthropy to USF, the university's Honors College has been able to host countless campus visits with accomplished speakers including Tilson Thomas, Aminatta Forna, Li-Young Lee, Mohsin Hamid, and others.
Getty's passion for art and music allowed students from professor Byron Au Yong's music theory class and USF's Getty Scholars to meet Tilson Thomas and learn from his life-long commitment to music.
Words of Advice
To the performers in the room, Tilson Thomas said, "You should be thinking about the projection of your voices and your ideas into space to the very last words of what you're saying. You have to learn to overcome the threshold of your embarrassment so that you never have any doubt on what you're there to say and communicate."
Tilson Thomas recalled a specific moment from his childhood when his grandmother brought him on stage and pointed up to a faraway exit sign above one of the theater balconies.
She said "Those are the people you have to think about when you're giving a performance. Because up there, it could be the people that paid the least money to see this show but actually the people who love it and need to hear it the most," Tilson Thomas recalled.
To the Future Generations of Artists
As he made great strides in the entertainment industry, Tilson Thomas made sure to never forget this rule: "If you're going to be a musician, if you're going to be an interesting musician — it's an understanding that you will be, for the rest of your life, a student."
There is no point in which the asking of questions and the curiosity and the testing of previously held assumptions is not going to go on," Tilson Thomas said. "The minute it stops going on is kind of the end of being an artist. There's so much of it out there. It's never over."
As he scanned the room of USF's aspiring artists he said, "We, as performers, have a responsibility to recognize the design of what's happening in these pieces and then, using the raw material of our own lives, make it come alive… So that someone in the audience can understand it, somehow, in a better way, than just listening to a recording. That's what live performance is all about."
To learn more about supporting Honors College programs, contact Lindsey McClenahan, Assistant Dean of Development, College of Arts and Sciences, at (415) 422-5105 or lmcclenahan@usfca.edu.