Alumni
Three Generations of Change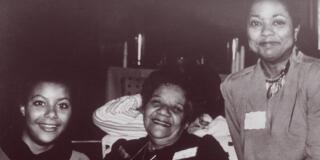 Sanya Hill Maxion '81, a third-generation graduate of USF, continues her family legacy by advocating for the success of Black students and alumni.
Crafting Legacies
Every Don holds preserving social justice within, and beyond, the bounds of the university community close to their hearts.
Working as a civil rights attorney, an administrative law judge, and an adjunct professor at USF's School of Law and School of Education, Sanya Hill Maxion '81 has always lived a life rooted in social justice. Her commitment to helping and educating others is linked her to childhood and her exposure to USF's values and commitment to social justice.  Through years of experience and service, her mother and grandmother set the example to choose a life dedicated to serving the next generation of young educators and students.
Haroldine Liggins, Sanya's grandmother, forged the family's early commitment to USF in her work as Registrar at the San Francisco College for Women/Lone Mountain and as a program assistant in USF's School of Education, where she helped grow the presence of Black students on campus. She was responsible for having typed many dissertations for Black students obtaining their doctorates during a time when they made up less than 5% of the university's student population.
Sanya's mother, Dr. Patricia Hill MA '70, taught at USF for over 40 years as an English professor before her retirement in 2015 and served as one of the first three Black professors at USF. During her tenure, Dr. Hill recruited predominately Black and other faculty of color to USF. Her efforts were a response to the Green and Gold Room protests of the early 1970s, in which Black USF students fought for more diversity in students admitted to USF, and campus faculty.
"I don't think there would have been three of my generations at USF if it hadn't been for those protests. Our legacy was born of the Black protest movement," said Sanya.
Roots in Harmony
The Black Alumni Society (BAS) also came about and flourished as a result of these student-led movements. The organization became a space for former students to create more awareness around social injustices and accountability for their community.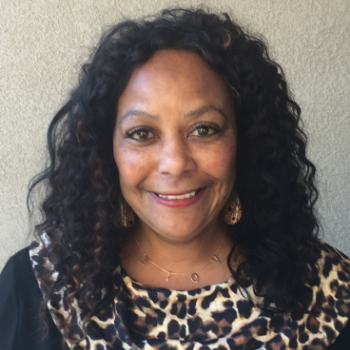 In response to the growing support for Black students, the Haroldine Liggins African American Endowed Scholarship Fund was established in the early 1990s and has been awarded annually to a Black undergraduate student of the Bay Area.
"One reason that we were able to successfully establish an endowed scholarship in my grandmother's name was because the Black Alumni Society was very active at that time under the leadership of Harold Washington," said Sanya.
Call to Carrying on Tradition
As co-chair and a member of the Black Alumni Society Board, Sanya and other USF graduates continue to find ways to pay forward the blessings and opportunities they had as students and members of a university society.
"As an active member of the board I've been given the gift to work among and watch new generations of Black individuals that lead in strength, vulnerability, and creativity," said Sanya.
The organization is currently working to create platforms dedicated to educating others about their cause. Resources, stories, and events will be shared with Black students, alumni, and other partnering cultural entities on campus.
Cultivating Solutions and Healing
Collaborations made alongside other affinity groups within the USF community, and the expansion of the BAS is what Sanya hopes will inspire and serve as examples for future generations of leaders.
"Our country and our community have been through some very harrowing experiences during this last year — the pandemic, wildfires, racial injustice, a recent incursion on the nation's Capitol, and a very devise presidential election. On this day, I do have hope that there will be more unity in our nation and community," said Sanya.
With a hopeful air, Sanya encourages more intersectionality for the sake of starting meaningful conversations and sparking the lasting change our country needs.
"One of my biggest honors was to introduce a panel to the USF community last October titled Community Activism: Race, and Healing," added Sanya. "It was born out of this past long summer of racial protests around the country."
This event was the first collaboration co-sponsored between the Black Alumni Society, the Latinx Alumni Society, and the Asia Pacific Alumni Network.
Aiding alumni, faculty, and students in discovering their full potential is what Sanya shares will drive organizations such as the BAS to stop at nothing in the face of adversity and challenge.
To support the Black Alumni Society and other cultural affiliations at USF, consider joining a society or making a donation to the Haroldine Liggins African American Endowed Scholarship Fund »