Giving
The Innovation Hive Nears Completion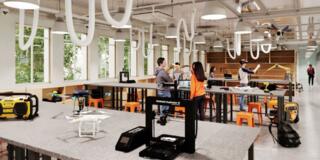 A Hive Like No Other
Ideate. Fabricate. Innovate.  
What do these words mean to you? At USF, they reflect the excitement and momentum around the Innovation Hive, a new collaborative space for engineering students to imagine and build real-world solutions. 
The Innovation Hive, scheduled to open in fall 2021, will be a creative maker space, designed to inspire problem-solving and hands-on prototyping. Students will have access to everything from 3-D printers to drill saws in a state-of-the-art learning center that will accommodate digital and physical creation.
In-Person Buzz
Even as students continue to learn and work in a remote environment this spring, the excitement around the new Hive is palpable, even online. 
"We are all so excited about it," said Mia Echivarre-Morelli '24. "When we actually get to school this is going to be our place to just work on things together, to get to know each other."
Beyond engineering, the Innovation Hive will be open for cross-campus use, with resources and tools available to students from all academic disciplines. 
"It honestly sounds like a dream come true to me," said engineering student, Branden Elliott '24.
 Changing the World for USF Students
At press time, USF is just under $1 million short of the fundraising goal of $6 million, and funds are still being raised to support programming, materials, and equipment for the Hive.
Alexander Khong '23, says, "The engineering department, in particular, was attractive to me because of its holistic approach. In my first semester, I wasn't only taking math and sciences classes but also classes in anti-racism and ethics which helped me to frame a valuable, and often overlooked, aspect of engineering, keeping in mind who and what are we designing for. My USF education is preparing me to be the best engineer I can be."
The Innovation Hive is part of Changing the World From Here: Campaign for the University of San Francisco and represents a first step in the upcoming renovation of Harney Science Center. 
Learn more about the Innovation Hive and how to support this and other campaign priorities.
Image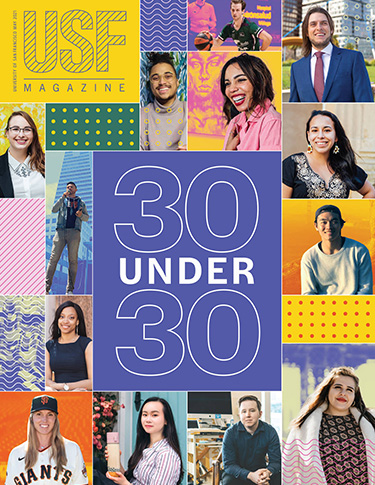 Featured in USF Magazine
This USF News story was published in USF Magazine, where you can find feature stories about university life, alumni Class Notes, and information about events at USF.