San Francisco Advantage
Speech Contest Success
How students in Chinese Studies dominated as the underdog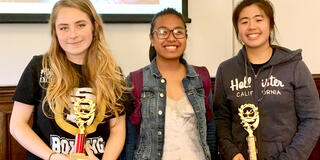 Living in a place with a 34% Asian population, San Francisco gives students access to authentic cultural experiences, the most highly regarded publications, and a deeper understanding of Chinese society.
The proof is woven within the constant success of students. In the 43rd Chinese Mandarin Speech Contest organized by the Chinese Language Teachers Association of California, Helen Kao '20 (first place, CHIN 202), Sachi Popov '21 (third place, CHIN 202) and Mayumi Remengesau (honorable mention, CHIN 101) all placed.
It was a great opportunity to put myself out of my comfort zone! After days of brainstorming, I thought I'd write about a memorable experience I had going abroad with my grandfather, aunt, and cousin and the dilemma we had before we even left the country." says Helen, "Once it was written, I made weekly appointments with Professor Josephine Tsao, my assigned Chinese tutor and practiced myself until the day of the contest."

Students with a minor in Chinese Studies were competing against numerous students from other universities in the Bay Area, who receive more hours of intensive training in Mandarin Chinese per week. While our students aren't drilled for hours on end, they have the opportunity for an immersive learning experience by living in such a culturally rich environment and being taught by phenomenally dedicated instructors.

"I became more self-confident from this whole experience. I encourage my fellow students who are or will be taking Chinese Studies to participate. Your level of proficiency does not matter as long as you practice!"