Campus Life
7 Things You Need to Know About Returning to Campus in the Fall
Get ready to embrace life on the Hilltop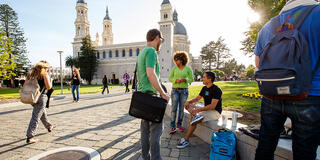 Can't wait to get back to USF in person? Or see it for the first time? Here's your back-to-school checklist.
Take Class in a Classroom Most courses this fall will take place in person. Wear your mask and wash your hands.
Keep Your Distance Every classroom will be arranged with physical distance between students, and the fall schedule ensures that not everyone is on campus at once. Also, masks will still be mandatory on campus.
Know the Five Types of Classes In-person classes will be on campus, in real time. Hybrid classes will be split into two cohorts that take turns going to class in person and over Zoom. HyFlex classes will always meet in person but students who aren't on campus can Zoom in synchronously — in real time. Remote classes will be taught synchronously through Zoom, while online classes will be mostly asynchronous.
Return to Residence Halls This fall, students in USF residence halls will live in single rooms or double rooms. Triples won't be available for health and safety reasons.
Take a Health Check Each day, on campus, you'll need to take a health check survey. 
Quarantine If you're coming to campus this fall from outside California and you are not vaccinated, you will need to quarantine for 14 days if you're in campus housing or for 10 days if you're not in campus housing. This means staying inside and having groceries or meals delivered to you. Vaccinated students will not need to quarantine.
Keep in Mind That Plans May Change USF follows San Francisco's public health requirements. If safety protocols change, USF will change with them. You will be informed as soon as any changes are made.
For the latest plans and practices related to fall semester, see the USF Together site.