Alumni
Re-imagining Policing
An intergenerational conversation regarding active calls for change in policing across the United States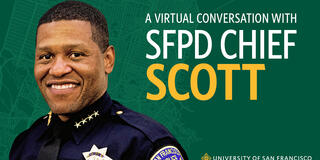 On August 18, 2020, USF student Mike'l Gregory '22 sat down virtually with SFPD Chief William "Bill" Scott and USF Institute for Nonviolence and Social Justice director Dr. Clarence B. Jones for an intergenerational conversation about police violence, public safety, and calls for change in the wake of the movement for Black lives.
In the spirit of the Institute for Nonviolence and Social Justice's vision to bring people together in multigenerational alliances to promote transformative nonviolence, and truth and reconciliation, the two civil leaders discussed their upbringings and the long history of systemic racism in the United States. The leaders agreed that the morality of American society and our way of life is being tested and put to question now more than ever. As citizens, we have an opportunity to make what Chief Scott dubbed, "real substantive change in policing across the nation."
A New Way of Doing
Change has already sparked in some locales through the reallocation of police budgets to address disparities in communities of color, particularly Black communities. Chief Scott shared that in San Francisco, Mayor London Breed has already pledged to reallocate 120 million dollars towards programs and initiatives that will aid Black communities. Additionally, the SFPD has instituted a protocol to enforce change in their culture that helps to treat people with more dignity and respect.
Much of this change is thanks in part to the leadership of civic leaders but also the call for change coming from young people and the United States population at-large. USF's Institute of Nonviolence and Social Justice aims to support these young leaders by assisting students, activists, and thinkers confronting injustice and inhumanity in all forms, including the crises facing our nation today. Through the lens of Jesuit education, the Institute can help to shape the moral leaders of today and tomorrow by using transformational nonviolence to drive powerful change in our communities.
The Morality of Leadership
Both Chief Scott and Dr. Jones agreed that the role of moral leadership in the face of the movement for Black lives has played, and will continue to play, a crucial role in driving positive change.
"I find it to be morally challenging," explained Dr. Jones. "I believe that police are essential but the crisis is that police have exercised the use of excessive force as the first option rather than using it as the last option."
"We have to ask ourselves: What kind of nation are we? What kind of country permits a man to not breathe for 8 minutes and 46 seconds?" continued Dr. Jones. "What we find is that it's a series of more than one incident and it's a consistent pattern. But the police are not inherently bad."
Chief Scott reminded us that it's important for those in positions of leadership to understand the current crisis and opportunity facing our nation through understanding our nation's history: "How did we get here? The history of how we got here is very important and crucial to this conversation. The killing of George Floyd is indicative of history… We have generations of systemic racism that must be addressed."
Hope on the Horizon
Despite challenges and adversity, glimmers of hope shine through alongside the movement for change and creating a more just, humane, and equitable world for everyone:
"I've been in this industry for 31 years now and I've never seen this level of willingness to change. There has never been a movement this powerful in our generation," said Chief Scott. "Things are better for [my kids] than they were for me... but we have to keep working and keep pressing until that goes away."
"People's eyes are opening up in ways that they may not have before," added Dr. Jones. "The sheer power of the immorality of what happened to George Floyd was a tipping point… and they say enough is enough."
Join us in support of the Institute for Nonviolence and Social Justice as it continues promoting transformational nonviolence to powerfully confront and overcome injustice and system violence, contact Tina Burgelman at (415) 867-0242 or taburgelman@usfca.edu, or make a gift to the Institute as a part of Changing the World From Here: Campaign for the University of San Francisco »