Diversity
Policing and Race
Faculty discuss run-ins with racism as part of forum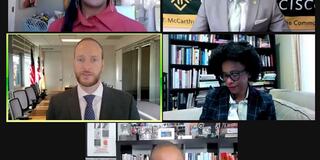 At a university discussion on Feb. 23, three faculty members shared stories of mistreatment at the hands of police.
They talked about being pulled over by police officers, in some cases with guns drawn, even though they had done nothing wrong. All three faculty members are Black.
"I've experienced it myself having lived here in the city for over 20 years," said School of Law Professor Rhonda V. Magee. "One time my family was in the car with me here in San Francisco."
The discussion on policing and race, attended by students, faculty, and community members, was broadcast on Zoom due to the pandemic. Magee was joined by Chesa Boudin, San Francisco district attorney; Derick Brown, senior director of USF's McCarthy Center; and Darrick Smith, assistant professor in the School of Education.
The talk is part of an initiative called "6+You" at USF that includes programs about race and racism. The effort grew out of calls for the university to face concerns about structural racism, and this forum was part of an effort to reimagine the Department of Public Safety at USF.
Driving While Black
"I was about 6 years old, my dad was driving," said Brown, who grew up in the Western Addition neighborhood near USF. "I was in the backseat and we were driving around in the Bayview. And I remember the police put on the lights and used the loudspeaker…. My dad was pulled out of the car and was thrown on the hood of the car. I was just a little kid watching all of this."
Later, as a teenager, Brown was pulled over by police, with guns drawn. They accused him of violating probation.
"Mistaken identity," Brown said. "I guess, you know, driving while black."
Police reform is necessary, all agreed, although Smith said it will take time.
"I don't really necessarily expect police departments to reform anytime soon," he said. "I'm Black and I'm from Oakland and I never grew up with the expectation that such things would happen."
The Long Haul
Boudin said his office is limited in addressing complaints against police in San Francisco. He said his main focus is prison reform and making sure people aren't jailed for technical violations of probation and parole.
Steps like that can lead to police reform, too, Smith said.
On USF's campus, many students have called for the defunding or dismantling of the Department of Public Safety. Brown addressed those concerns.
"I'm looking at the long haul," Brown said. "It's not like we're going to change in one day, but I think that you have to look at it over time."
USF News will report on "6+You" throughout 2021–2022, covering forums, discussions, and events related to this initiative.