Engaged Learning
The New Science of Sport Management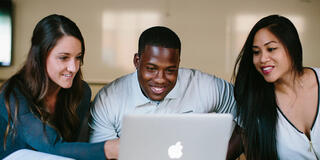 The University of San Francisco has launched a 23-month, fulltime Master of Science in Sport Management degree to accelerate the development of the next generation of sport industry leaders.
"Our program is strengthening the focus on data analysis and quantitative skills. The sports industry is increasingly competitive, on- and off-the-field, and the new Master of Science in Sport Management degree will more clearly communicate the capabilities our graduates provide to sport businesses around the world from day one," explained Michael Goldman, associate professor in the Sport Management program at the University of San Francisco.
For over 30 years, USF's Sport Management program has provided professional knowledge, skills, and ethical leadership education for the sport industry, with over 2,500 alumni helping to grow the industry globally. As a Master of Science degree, the globally-ranked Sport Management program will be able to strengthen the quantitative and analytics skills that are increasingly required for career success in the industry, while continuing to provide a very practical experience-based program within the sport industry.
Employers agree. Lisa Fahey, president and chief strategy officer of FanCompass, the fan data and engagement technology firm that regularly employs Sport Management program students and graduates argued, "The skills that are required for data is something that you can use in everything you're doing because there's a lot of synthesis and analysis, coming up with insights around data, and then actually taking it all the way to recommendations." These transferable skills, which the World Economic Forum highlighted as some of the top 15 skills for 2025, are developed in the Master of Science in Sport Management degree through a range of rigorous data analysis courses. Nola Agha, professor in the program added, "Our courses demystify complex analysis techniques, while developing students' statistical skills to organize, analyze, and interpret different types of data. Our students work with real sport industry data from around the world to develop their quantitative skills, and to provide actionable insights for better decision-making."
Alumni of the Sport Management program are already seeing the dividends of the data-centric curriculum. "Partnerships are 50% relationships and 50% data. It is critical for us to know how to collect quality data, how to speak to the data, and how the data tells the story of partnerships drawing business to our sponsors," explained Eric Adlawan, in partnership development with the Golden State Warriors. Adlawan is a recent graduate of the program and was the Pat Gallagher Fellowship recipient while earning his sport management degree. That award exclusively provides an annual, funded rotational internship with the San Francisco Giants.
The design of the Master of Science in Sport Management degree enables students to choose elective courses in their final semester, such as the Digital Strategy in Sports Media course offered by Eddie Maisonet, senior editor at ESPN and a USF Sport Management program alumnus. "It is vital for us to understand that the top 20% of the content we create draws 80% of our audience," Maisonet said, adding that data drives decisions in content and across the broader sports industry: "We lean on data science the most to understand current performance, past performance, and to project future performance." Dan Rascher, professor and academic director of the program noted, "the faculty often bring experiences of working with massive sport industry data sets related to customer relationships and pricing, athlete valuations and performance, marketing and sponsorship success, wearable technology, social media engagement, among others."
The Master of Science in Sport Management degree is offered simultaneously in San Francisco and Orange County, two of the largest sport markets in the world. Sport Management program students have access to internships and jobs from Sacramento to San Diego. Goldman notes, "The program sets students up for success in a range of management roles in the industry, not just through a summer internship, or work after the program, but through internships throughout the program that are focused on management practice, execution, and decisions."