Meet Leah Clatterbuck '21
Communication Studies Major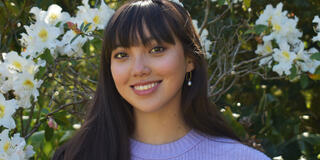 She talks about friendship, fun, and favorite classes.
What made you want to become a communication studies major?
I've always been interested in the social dynamics between people, how we communicate, and what that says about us as people. I loved the COMS program because of the range of options we had and how versatile our degree is. I always knew I wanted to be a communication studies major and I couldn't have made a better choice!
What has your experience been like within the department?
I would have never met some of my closest and best friends if it wasn't for the Communication and Everyday Life class! Along with all the incredible people I've met through the major, the faculty is also (in my totally unbiased opinion) the best in the university. From the COMS Carnival to COMS Trivia Night, the department hosts such fun events that really involve students and brings us all closer together.
What was your favorite class and why?
Tough question, but one of my favorite classes has to be the Dark Side of Interpersonal Family Communication, taught by Professor Thorson. The content of the class was just so interesting and not often talked about. The class was just very insightful and Professor Thorson is such a caring and helpful professor. I feel like I learned a lot from that class and it was overall a great experience.
What advice would you give undeclared majors who are thinking about studying COMS?
Reach out to the professors! The COMS department is so friendly and helpful. If you have any questions or are struggling with anything, feel free to reach out to any of the professors. They're all so understanding and eager to help. Also, just do the readings!