Equipped to Lead and Succeed
Meet Kalii Caldwell '25
Dean's Scholarship Recipient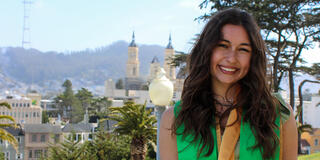 Where are you from and what is your background?
I am originally from Utah. I studied Chemistry with a concentration in Biochemistry at USF for my undergrad. While at USF, I also competed as a Don for the Women's Cross Country & Track teams.
Why did you apply for this graduate program and decide to study at USF?
I applied to the PSM in Biotechnology for numerous reasons, but primarily because it offers a broad introduction into the biotech industry in one of its biggest hubs. Because my undergrad was rooted in science, I felt that it would be important to be trained in other elements of the industry. I loved USF as an undergrad and received amazing mentorship, which I knew would continue as a graduate student. I love that USF is in a city that is great for this field of work, but also one that is rich in history, culture, and fun.
What impacts has the Dean's Scholarship had on your ability to further your studies?
This scholarship has provided me with tremendous financial support to help pay tuition. Not only am I able to be enrolled in the program at USF, but I can also take on a full course load, which will allow me to begin developing my professional career more seriously and from an earlier date.
What are your career ambitions?
I want to be in a position that enables the scientific community to push the boundaries of innovation. There are so many brilliant people in biotech, and nothing excites me more than engaging with those who are excited about their research and fearless enough to pursue the unknown. Whether I end up in the lab or on the business side, my ultimate goal is to help facilitate the execution of revolutionary science to find real solutions to some of the world's most pressing problems, especially in sustainability and medicine.
What is something unique or interesting about you?
I grew up skiing, mountain biking, and swimming in cold mountain lakes. Next, I want to add surfing to my list.
The Dean's Scholarship recognizes a select group of incoming students in graduate programs, who the admission committees believe will make a substantial contribution to the programs. Recipients are selected based on merit. To be considered for the Dean's Scholarship, students must apply to their program by the program's priority deadline.
College of Arts and Sciences
News