Meet Ingrid Rojas Contreras
The visiting professor is a finalist for a 2022 National Book Award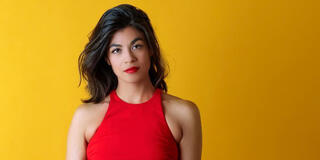 Ingrid Rojas Contreras was born and raised in Bogotá, Colombia. Her first novel Fruit of the Drunken Tree was the silver medal winner in First Fiction from the California Book Awards, and a New York Times editor's choice. Her essays and short stories have appeared in the New York Times Magazine, Buzzfeed, Nylon, and Guernica, among others. Rojas Contreras has received numerous awards and fellowships from Bread Loaf Writer's Conference, VONA, Hedgebrook, The Camargo Foundation, and the National Association of Latino Arts and Culture.
How would you describe your journey as a writer till now? 
My journey was one of trying to describe what form my love of words and story would take. I went from journalism, to delving in oral history, to doing work in translation, and finally found what I was looking for, creatively and soul-wise, when I started to go into creative writing. I feel that I have now found the place where my ambitions and creative curiosities live, and my work is in tending to that space.
Your book, The Man Who Could Move Clouds, has become a National Book Foundation finalist. How do you feel about it? Talk about the writing process of this book. 
I am so honored to be a finalist! Writing the book was an emotional and technical effort, with the bulk of that effort happening during pandemic. Being on the other side of it, I feel very proud and happy with all that I was able to do. It's always an amazing moment when a book is finally published and it finds its way into readers' hands. I hope it continues to find more readers. 
Being a visiting faculty at the MFA Writing program, describe your experience of teaching at USF. Has teaching other writers affected your own writing in any way? 
I love teaching for how it forces me to slow down my digestion of literature. In explaining how a specific element of craft is working or firing on the page, I have to break it down, and I find that in that exercise, I arrive at a deeper understanding myself. I am inspired by writers in my class, and I love seeing the moment when writers really hit upon an idea or phrase or scene that just feels undeniably electric. 
What publishing advice would you give to new writers grinding to get their work publishing? (Some do's & don'ts for our community!)
I would say that getting involved in the literary community is one of the best things you can do in your early career. Who are the people organizing readings, magazines, and events? How can you help or amplify their efforts? Reading widely, falling in love with indie and well-known publications, submitting to places you love no matter who they are, paying it forward — these are all excellent places to launch a career from.  
Finally, what's the one piece of writing advice that you absolutely swear by and would want every beginner writer to know?    
For me, it's important to get to know yourself as a writer and a person and remaining curious about all of it. How can you best collaborate with your subconscious? How do you manage your critical voice? It's in an evolving effort to be in conversation with yourself and how you think and how you work, that things start to happen.