Passion for Justice
USF Grad Donates Masks in the Mission
He sells them worldwide, gives them away in the neighborhood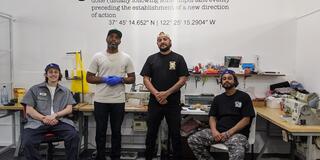 Since COVID-19 hit the Bay Area, Herbert Gracia '05, designer and co-owner of a Mission District clothing shop, has been donating one mask for every mask he's sold.
Thus far, he's donated more than a thousand.
"In late February or early March, with coronavirus spreading, my wife joked that 'you should make masks now.' I went to the shop the next day and designed one," said Gracia, the co-owner of State of Flux on Valencia Street.
"Then the shutdown happened, and the mask took off."
When all non-essential businesses were shut down, Gracia's first concern was retaining the employees at State of Flux, which operates as a store, a manufacturing workshop, and a photography studio.
"I didn't want to let go of anybody," he said. "We were looking at projects for them to do. They supported us when we started, and we must support them in their time of need."
One of the first stores in San Francisco to sew and sell masks, State of Flux received an overwhelming response. "The first day we opened online sales, our site almost crashed," Gracia said.
The shop has been closed to walk-in customers since March and for now is doing business only online. It has been shipping masks all over the world.
Giving Back to the Community
Having retained jobs for his team, Gracia wanted to give back to his community in the Mission.
"People out here were still working and a lot of them didn't know where to find a mask or didn't even think about it," he said. "We'd fill up bags and one of us would go out and donate them in the groceries and coffee shops where the employees weren't wearing them."
State of Flux has donated masks to bus drivers, police officers, firefighters, health care workers, grocery clerks, restaurant workers, and postal workers, says Gracia.
In the mornings when he's not at his shop, Gracia works for the Fromm Institute for Lifelong Learning at USF, where he works on websites and instruction technology. He also runs Frommcast, the online education video platform.
Gracia says that his USF education — he majored in media studies and played basketball for USF — has helped him stay grounded and reminded him to give back to the community.
"USF teaches you about hard work and to help the world," he said. "I was born in Mexico City. As an immigrant kid coming to this country and going to college, living in San Francisco, it was big for me. USF really cares about other cultures and other people, and being the first one to graduate in my family, I always look for ways to give back."
More Ways to Serve
In fact, giving back is what inspired Gracia, with partner Johnny Travis, to open State of Flux last October. Not only is it a store and a workshop and a photo studio; it will provide work space for other apparel designers.
"San Francisco is a very expensive place to have a shop, so if you don't have a space to work, you can work in our workshop — once we're open again," he said.
Gracia said he plans to sell and donate masks for as long as people need them. He also plans to "begin classes on sewing and screen-printing for kids and adults. We want to help our community grow and be creative."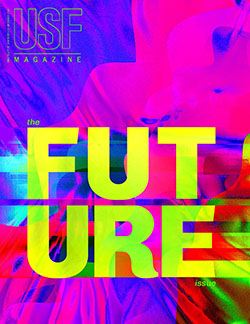 Featured in
USF Magazine
This USF News story was published in USF Magazine, where you can find feature stories about university life, alumni Class Notes, and information about events at USF.