Looking Good: Current Student Chris Brown, '16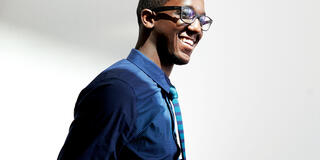 One year into the Sport Management Master's Program, Chris Brown, '16, is already tying it all together, with style. A 2014 graduate of CSU-Sacramento, both his coworkers and cohort have high regard for Brown's digital media savvy and pulchritudinous neckties.
In the last year Brown interned for UC-Berkeley's event management office and Stanford's social media department simultaneously, thereafter joining the Golden State Warriors as a public relations assistant for their championship season. He conducted his first interview with Doc Rivers, and the Los Angeles Clippers head coach was quick to compliment Brown's bowtie. Connecting with Natalie Bohonsky, '15, had led Brown to providing in-game statistics and post-game interviews while staffing the Warriors press areas and media room; showcasing his cogent fashion to NBA coaches and players alike was merely a natural byproduct.
Like all students, Brown has had setbacks. In fact, the program rejected his initial application, and is quite thankful that he did not take no for an answer and applied again. His development with the Golden Bears, the Cardinal, and the Warriors, on top of eleven months as a graduate assistant for the marketing and communications division of the Dons' own athletic department, makes him an asset in the constantly changing sports mediascape. In the coming year he looks to deepen his skillset as he continues to work for both the USF Athletic Department and the Golden State Warriors. In a way, he has already obtained the greatest success: fully enjoying his work.
Like so many students, the lessons from Dr. Cellini's introductory course have remained in the background of Brown's mind. In particular, he has focused on the "80-20 Rule", working his best on the things he can control and not worrying about external obstacles. The University of San Francisco Sport Management Master's Program is proud to have Brown as a student and excited to follow his future accomplishments.