Global Perspective
Learning 6,000 Miles Outside the Textbook
Student shares lessons learned in the world classroom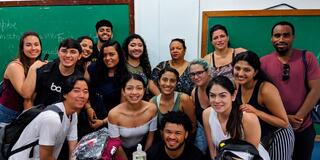 As our van climbs the narrow road, tangled wires and strings of laundry grow more dense above us. Rio's favelas are tucked into the hillsides, almost stacked on the affluent neighborhoods below. Police stand on street corners with semi-automatic rifles.
Today, my cohort and I are meeting with Andreia Larissa, the woman behind Parque Vivo, a community center that educates people of all ages. Inside, the classroom walls are peeling but they're painted bright blue. The books are worn but organized. Desktop computers sit in the next room but many don't work because Andreia and her team can't afford to buy a mouse for each one.
While resources are stretched, this doesn't stop Parque Vivo from engaging students. Teachers instruct grade-school students about clay modeling, encouraging emotional growth and self-discovery. They teach martial arts. At Parque Vivo, they recognize that love for learning doesn't just mean love for textbook studying. It means finding something to grow in, whether that be Zumba or cooking.
After the walk-through, we give Andreia school supplies collected at USF. "No one has ever done something like this before for us," she says. The school supplies were a small gesture. They couldn't meet all of Andreia's needs. But her reaction reminded me of our intention during this immersion.
Arrupe Immersions offered by University Ministry are week-long, 24/7 engagements in emotional intelligence. On my trip, we met with people working on social justice initiatives, like the people at Parque Vivo, and we listened.
As students in class on the Hilltop, we are pushed to analyze, solve problems, and draw conclusions. Here in Rio, we focused on active listening and non-judgmental attention. How could we apply the "people for others" value without becoming saviors? The answer surfaced quickly: by building relationships.