Alumni
A League of Their Own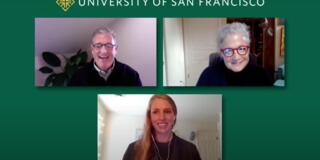 On January 28, 2021, Steven Revertria '92, president of Giants Enterprises welcomed Alyssa Nakken MA '15, an assistant coach for the San Francisco Giants, and Jean Afterman JD '91, assistant general manager for the New York Yankees to a virtual conversation where they reminisced on their beginnings as USF students.
They discussed the values of compassion and ownership, what they learned during their time at USF, and how they continue to lean on those learnings in their day-to-day work on and off the field. To kick-off, the conversation, Afterman, and Nakken were asked to share why they each chose a career in baseball.
"Baseball chose me," said Afterman.
After attending USF's School of Law, she met her match as a newly minted lawyer at a civil litigation firm. By aiding a client in bringing more diversity to the face of western baseball— an approach she credits to the community—building concepts she learned at USF–she was introduced serendipitously to a whole new profession within MLB.
Nakken relayed her appreciation for USF's Sport Management program for the opportunity to discover her passion within the sports industry. She shared the impact of her experience in working through the program as a graduate student and the connections she continues to cultivate as a result.
"I wasn't sure at first what I wanted to do, but the program really gives students a wonderful overview of the sports industry, along with a huge network of alumni and connections throughout the sports industry that is really unmatched," shared Nakken. 
She explained the essential role of coaches, such as Nino Giarratano, in the success of sports programs on campus. The involvement of people like Giarratano and the flexibility of career options allowed Nakken and other students to find opportunities to apply what they learned outside the classroom. 
For Afterman, the beliefs and perspectives introduced by her parents were reinforced during her time in USF's School of Law. The program's faculty and staff prompted her to commit to a career that served her community long after graduation.
[The league] "is not simply ballplayers and coaches and front offices. It's an integral part of a lot of people's lives. They rise and fall," Afterman added "It gives an outlet for a lot of emotion and it's a very social game."
Striving for Excellence at Home Plate 
Today, Nakken serves as chair of Momentum, the San Francisco Giants' Women's Network, which was established to foster an environment of empowerment and appreciation for women in sports.
Revertria continued on this note by highlighting revered female figures within the industry such as Katherine Feeney, a former MLB senior executive. 
In memory of her groundbreaking career and infectious spirit, the Katherine Feeney Memorial Endowed Scholarship was established at USF and is awarded annually to a female student looking to earn a graduate degree in USF's Sport Management program. 
As professional opportunities for women and other underrepresented groups become more accessible, Afterman spoke of how honored she was to have an education from such a diverse university community. She notes how essential it is for young girls and boys to see Nakken and herself in positions in which they have the power to invoke social and cultural change.
"Life is a banquet," she adds, "if you're fortunate to have a great education and to be in these positions, then there are a lot of opportunities to open those doors and keep eating at the banquet."
Please consider making a gift to the Katherine Feeney Memorial Endowed Scholarship. To learn how you can support USF Athletics, contact Brandon Graves, Associate Athletics Director at (415) 422-2160 or email blgraves@usfca.edu.