Alumni
A Journey to Use Artificial Intelligence for the Common Good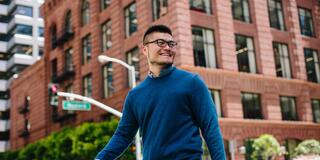 Inspired by his grandfather, who was an electrical engineer, Wenyi "Howard" Gao '17 has a dream to pursue a career in artificial intelligence, making driving safer and accessible for all, including people with disabilities.
He came to USF from Shenzhen, China, because the university offered the 3+2 Physics and Engineering dual degree program that supported his education and career goals. Despite the distance, his family backed his decision to study abroad, recognizing USF's reputation for openness to international students and diversity in its student body.
"In China, oftentimes the college you enter is based on one exam and how well you do on that exam," he said. "There's hardly any consideration of GPA or extracurricular activities. My family was always supportive of me going abroad, having recognized that America has an education system that takes the whole person into account."
The 3+2 Physics and Engineering Program is designed for undergraduate students to obtain a dual degree by attending USF for three years and the University of Southern California for two additional years. After successfully completing both programs' requirements, students are awarded a bachelor of science degree in physics from the University of San Francisco and a bachelor of science in engineering from USC. Given the time constraints and coursework requirement, the program is challenging.
"While I see myself as a physicist, I want to go into engineering because it's practical — it takes my knowledge of physics one step further," said Gao. "There are more things I can do and create from an understanding of both."
Physics is Teamwork
Completing the upper division Physics Lab with Professor Seth Foreman was what Gao considered his greatest achievement at USF because it required a mastery of complex topics such as atomic and nuclear physics.
"Physics is rigorous," said Gao. "The experience of being a student has enlightened me on how much work and thought goes into proper research, especially within the experimental sciences."
Despite being far away from home, Gao found a support system at USF with his classmates and professors, whom he calls his friends and mentors. They helped him navigate the challenges of being in a new environment with a rigorous major.
"My friends and I always said that physics is teamwork," he said. "We were a small group of students, and we relied on and watched out for one another. If we needed help, we didn't hesitate to ask for it. And when someone needed help, we were there for them. I couldn't have done it alone."
As a student, Gao felt his success was a priority to his professors. Small class sizes and low ratios of students to advisors made it easy for students to attend faculty office hours and advising sessions.
Having now moved on from USF, Gao attributes his success in the program to the university community, saying that without their support, "I wouldn't have been able to thrive in taking on the rigors of physics coursework — especially atomic and nuclear physics."
A New Journey
Beyond physics at USF, Gao attributes much of his personal growth to what he learned through the university's core curriculum, particularly his ethics courses.
"Immanuel Kant and his view on ethics really stuck with me. I want to make decisions that are for the greater good of all people," he said.
Gao is now completing his second degree at USC in computer science engineering. He plans to carry the Jesuit mission with him as he pursues a career in artificial intelligence that serves others.
"If I have the option to generate more happiness in the world," he said, "why not do it?"