Faculty & Staff Achievements
Innovative Site In Spotlight
Award winning AppInventor.org gives students real-world experience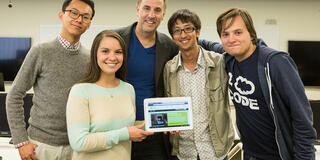 AppInventor.org — an educational site for people with no coding experience seeking to create mobile apps — was voted one of the Best Websites for Teaching and Learning, by the American Association of School Libraries.
Winning sites foster qualities of creativity, innovation, collaboration and active participation. Websites must possess tools and resources offered in categories of digital storytelling, social networking and communications, managing and organizing, curriculum collaboration and content resources.
AppInventor.org was founded by computer science Professor David Wolber. It's used globally and its website reaches approximately 60,000 unique users per month. The website provides teaching materials based on the App Inventor language created by Hal Abelson and others at MIT.
The site also serves as a "course-in-a-box" for instructors teaching coding classes at all levels. Professor Wolber says "The materials on AppInventor.org were spawned from my Computing, Mobile Apps, and the Web USF course that provides students throughout the university with coding knowledge. I took what I learned teaching the course and the materials I'd created, and made them available to the public, with the goal of creating a Khan-Academy-like tool for app building."
Professor Wolber says students have contributed significantly to AppInventor.org and have also collaborated with MIT on the App Inventor tool itself, tackling pressing issues like accessibility to technology and the growing technological divide, issues that App Inventor also serves to remedy.
Working on real-world software with thousands of users and in collaboration with other universities, such as MIT, is a great experience for students."
It's that real-world experience that gives computer sciences graduates an advantage when starting their career.
"Often, that first internship or first job out of school is the hardest to get, because many undergraduates have little or zero professional experience. Our real-world projects offer a great way to showcase innovative skills and ideas, as well as a dedication to the discipline," says Graduate Program Manager of the Computer Science department Gian Bruno.