Giving
Here's the Buzz About the New Innovation Hive at USF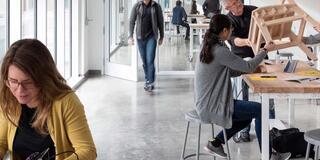 Imagine a group of students — from engineering, art, and nursing, for example — gathering to work together on a project in an open comfortable space, furnished with couches and tables. They are chatting and scribbling on writable surfaces around the room. This is a place where students, faculty, and staff across campus can gather, collaborate with purpose, and explore ideas without limits. It's a space that will be called the Social Hive.
The creative process doesn't end there. Next, students can take their ideas and transform them into prototypes. Next door, the rapid prototyping lab will house 3D printers, laser cutters, sewing machines, and electronic benches. Here, students will turn their designs into physical models, and then look to see whether these prototypes meet their client's needs.
Once they're satisfied with their design, they will move downstairs into the fabrication lab, where they will build out a more permanent version of their product, using both hand-controlled tools such as saws and drill presses and also CNC machines for the more complex cuts. In this way, students will see the entire design and construction process, from idea to final physical artifact.
Welcome to USF's planned new Innovation Hive.
Reimagining Harney Science Center
The University of San Francisco is rededicating its commitment to building a university for the future by raising $60 million for the redesign of the Harney Science Center. Harney will be the home for the new Engineering at USF program and a hub for STEM and interdisciplinary learning that supports all USF students.
With the renovation of Harney comes the new Innovation Hive. At the heart of the building, the Innovation Hive will act as an academic stage for innovative problem-solving. It's a modern, state-of-the-art 24-hour multipurpose space, consisting of prototyping and large scale fabrication spaces.
"We really see this as contributing to the entire USF community," said N. Jeremy Kasdin, assistant dean of engineering at USF. "We hope it will become a central asset for course development, utilized by students across disciplines to create and innovate in new ways."
So far, $2 million has been raised for the Innovation Hive from individual and institutional funders including Chris Seiwald, The Fletcher Jones Foundation, E.L. Wiegand Foundation, and an international foundation. All have made early investments in building an innovative hub and engineering program for the 21st century. 
The Fletcher Jones Foundation shares USF's vision of transforming spaces for students, staff and faculty members so they can explore their ideas, innovate, and create for the future.
 "The Fletcher Jones Foundation is excited to join USF as it reimagines the Harney Science Center and launches its new engineering program," said Dr. Mary J. Spellman, executive director and treasurer for the foundation. "It is an honor to support USF's creative approach to learning and the creation of this collaborative space to support learning across and among the various disciplines and majors."
Looking to the future
Construction of the Innovation Hive will start in fall 2019 and is expected to be completed in May 2020.
The Innovation Hive is part of a larger effort to expand USF's STEM programming. It started with the John Lo Schiavo, S.J. Center for Science and Innovation in 2013, which helped shape how USF teaches the sciences and prepares students for the challenges of a technological world.
"Renovating Harney will allow us to provide our students with a 21st century Jesuit education," said Christopher Brooks, associate dean of academic operations at USF. "Students will have access to hands-on experiential learning, working on real-world problems in a team setting, and developing innovative solutions to the challenges facing our society."
The Innovation Hive represents USF's priority to make room for more thoughtful collaboration and purposeful innovation. The university's commitment to providing students and faculty members a transformative space will help USF in its mission to prepare students to become compassionate leaders, thoughtful designers, and innovative entrepreneurs.
 "A new Harney will put students front and center," said Brooks, "We are creating spaces where they can pursue their passions and get the invaluable hands-on learning that they need to be successful scientists and leaders."
To learn more about supporting the Innovation Hive, contact Lindsey McClenahan
This gift was made in support of Changing the World from Here: Campaign for the University of San Francisco.