Alumni
Welcoming USF's Inaugural Pride Alumni Group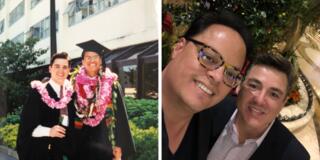 After years in the making, USF has announced its first-ever Pride Alumni group. The launch underscores the university's efforts to foster inclusivity and sends a clear message to the university community: all are welcome here. 
Pride Alumni joins other alumni affinity groups, including the Asia Pacific Alumni Network, Black Alumni Society, and Latinx Alumni Society.
As their group continues to grow, Pride Alumni board members are eager to build a network of acceptance and support for USF's LGBTQ+ community. They hope this marks a significant step forward in the path towards even further inclusion efforts at the university.
Change Starts Here
The inaugural Pride Alumni group combines the experiences and insights of a diverse group of board members, including couples like Derek Leighnor '94 and Simon Flores '93, first-year USF School of Education doctoral student.
The two met at USF and helped create the first LGBTQ+ student, faculty, and staff alliance at USF during the 1990s.
"At that time, it was a very anti-LGBTQ+ environment in San Francisco. At the university, there were folks that were very open and supportive, and then there were folks that were very conservative. Articles in the student newspaper would come out about how radical we were and how there was no place for us on campus," Flores stated.
This was one of the motivating factors behind why Flores and Leighnor originally decided to become board members. Despite the lack of acceptance they faced, they were determined to educate others and to push forward into an inclusive future.
"USF is the place we met. It gave us each other. It's a huge part of who we are and it's important for us to connect to other people who have had similar experiences," Leighnor said.
Their perseverance, alongside the work of many other LGBTQ+ activists and allies, has transported USF into this current moment in 2021.
Building Our Community Space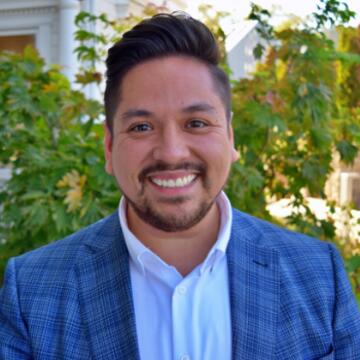 Throughout the years, USF has worked fervently to develop a campus environment that prioritizes diversity, safety, connection, and inclusion.
During his time at USF's Sacramento campus, Joaquin Razo '15, Pride Alumni and Latinx Alumni Society member, felt the positive impacts of the university's efforts to embrace people of all backgrounds.
Throughout his educational journey, Razo explained, "USF was always that beacon on the hill that I wanted to be a part of and wanted to achieve. When I got there, it was everything I thought it would be."
For Razo, being a part of the Pride Alumni group indicates the university's commitment to Changing the World From Here, where love and compassion continue to triumph.
"It's important to understand that USF is being conscious about listening, hearing, and allowing more voices to have space," Razo said. "Most people just want to be heard, and that's where a lot of conflict comes from. Our university is leading the charge and evolving. I think it's also important that we say it's LGBTQ+ and allies because it's a space that's coming out of the need for inclusive inclusivity."
Looking Out To the Future
As Pride Alumni members plan ahead, the group's primary mission is to ensure USF community members feel supported and seen.
To new graduates who are joining the alumni community, Razo said, "Don't be afraid to jump in and say 'I want to be a part of something.' Don't think that you don't have anything to bring to the table, because you do."
Leighnor added, "I am hopeful. I can see how USF has become more accepting — just as the general population has — so it's a good time and it's a hopeful time. We're here, we're open to members, and we look forward to connecting with you."
To continue being an engaged member of the university community post-graduation, join Flores, Leighnor, and Razo and consider getting involved with the Pride Alumni group.