Campus Life
Have Fun — Together
Info and advice to incoming students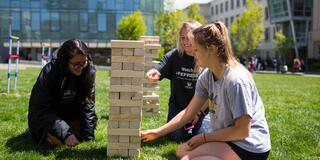 When you arrive on campus for the fall semester, try these five ways to make friends and have fun at a sociable distance.
Bike Around
Each Sunday, Golden Gate Park is closed to cars, making it the prime destination for runners, bicyclists, and picnickers. Rent a bike from a shop in the Haight and ride out to the Dutch Windmill and back.
Go Coffee Crawling
Within a mile of campus you'll find amazing indie coffee shops, including Fifty/Fifty, the Mill, Matching Half, and Rise & Grind. Take a day with friends and find your new go-to spot.
Wander the Haight
The Haight-Ashbury neighborhood, the center of the Summer of Love in 1969, is filled with vintage stores, random sock shops, and cafes just an eight-minute walk from the main campus. Sarah Ali '23, economics major, said "exploring the city and scoping out brunch places in the Haight was one of my favorite ways to spend time with friends."
Explore USF
Lamonte Stamps, USF's director of first-year programs and family engagement, invites you to Dons on Demand workshops all through July. In these 30-minute webinars you can meet other students before the semester begins and learn about your opportunities at USF — sports, academic support, student government, career services, and more.
Soak Up the Sun
On warm days you'll find the Gleeson lawn filled with students playing Spikeball and soaking up the sunlight. Bring your own blanket and a group of friends.