Global Perspective
Graduate Students Sharpen their Cultural Competency Skills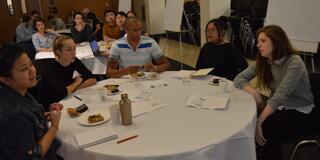 On September 26, 2017 Keiko Sakurai, Director of Consulting, Japan, at Aperian Global lead an intercultural competency workshop for Asia Pacific Studies (MAPS) and International Studies (MAIS) graduate students. Ms. Sakurai has expertise in team-building, change management, and diversity and leadership development for multinational companies. Students participated in role-playing scenarios found in various business and social settings, learning how culture shapes interactions in Japan.
The interactive workshop touched on key cultural dimensions such as hierarchy, group orientation, harmony, loyalty, long term relationships, situational behavior, saving face and formality. In introductions the company name always comes first "sanfuranshisuko daigako no (name) desu." Japanese are hesitant to say no directly in order to keep harmony and build a group consensus. In a situation like this, an indirect no or expression such as "maybe we can do," or "it might be difficult" might be given. Sakurai discouraged yes/no questions and instead recommended one ask open ended questions in order to develop a discussion. Additionally, be mindful, slow down, pause, and don't fill silence with more questions. In cross-cultural communications it is crucial to always confirm the next steps. One student remarked "I have a better understanding now of nonverbal cues in a Japanese social setting."
Ms. Sakurai touched on seating arrangement protocol in Japan where the best seat is reserved for the "kamiza" or highest ranking person and the lowest ranking individual "shimoza" - closest to the entrance. For taxis or car travel, the best seat is behind the driver (2nd safest seat), and the lowest in seniority is seated by the driver to handle payment. "I could see the application of new skills in the real world," a student commented.
In advance of the workshop, students took the Aperian GlobeSmart survey, a cultural assessment tool designed to help users increase their cultural agility. The questionnaire measures across five tenets of culture, namely independent or interdependent, egalitarianism or status, risk or certainty, direct or indirect, and task and relationship. The results allow adjustment to one's style of communication in order to fit in a particular cultural setting. Another student reflected, "It has helped me to see the similarities and differences between Chinese (myself) and other people from Japan and Korea. Even though I am Chinese and grew up in this culture most of my life, I was very surprised that my results showed that my personality and social skills were leaning more towards a Western, individualistic style."
The key takeaway for students was that cultural competence does not exist in a vacuum and it is essential to have an adaptable mindset allowing for new accommodations in interactions. A student cautioned "Sakurai's competency workshop reminds USF students that while it's important to look at cultural, historical, and religious forces that have shaped the countries of East Asia and their citizens, it's as important to recognize that culture is fluid and rapidly changing, and that individuals from all over the world will continue to surprise us and defy expectations regardless of their gender, class, or the region of the world they were born and raised in."