Alumni
Fate Finds a Way
Two USF grads unite to support first-generation college students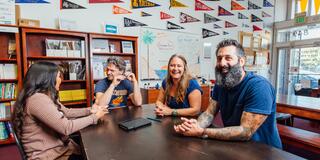 Most people who meet at the gym might grab a smoothie afterwards and talk about their dogs. When Ruby Wilson and Kate Bueler met at the gym, they talked about the staggering cost of higher education — and then they did something about it.
Bueler '00 MA '12 works for ScholarMatch, a San Francisco nonprofit founded by author Dave Eggers in 2010 to make college both accessible and affordable for underserved high school students.
"Our goal is to help first-generation kids from low-income backgrounds, regardless of their immigration status," Bueler said. "So many of these students work so hard in school and help their families survive on a daily basis, but have no idea how to navigate the bureaucratic process of college applications. That's where we come in."
As Bueler talked with Wilson about her work for ScholarMatch, something about the organization's goals struck a chord with Wilson. Wilson's husband, Josh Harris '05, was looking for a way to get involved in their Mission District community, and she thought ScholarMatch might be the ticket.
Success in Hospitality
Founder of the Bon Vivants, a hospitality and cocktail program consulting firm, Harris initially got into the bar business because it was an easy way for him to make money while figuring out what he really wanted to do. But he soon realized that "the hospitality industry offered options beyond the bar — creative, entrepreneurial, etc. — and I realized that I could be successful at something I was already good at," he said.
In 2013, Harris co-founded his first cocktail bar, Trick Dog, on 20th Street. It's been named one of the 50 best bars in the world three times and nominated for a James Beard Award.
But even as his businesses grew, Harris felt something was missing.
"I realized that I didn't just want a job — I wanted a vocation," he said. "It was important to me to somehow integrate my personal values with my professional ones. I wanted to leave something meaningful behind."
Soon after Bueler and Harris met, the Bon Vivants Scholarship for ScholarMatch was born.
Supporting Students and Youth Programs
The BV Hospitality company, which Harris co-founded in 2016, has committed $150,000 over five years to put five students through college using the ScholarMatch services, which include personal mentorship from application through graduation, plus funds to cover costs beyond tuition fees — such as housing deposits and textbooks — that can place a higher education out of reach, even for students receiving tuition assistance.
The Bon Vivants Scholarship will be awarded to a child of a hospitality employee in San Francisco each year through 2023, when BV Hospitality will review and consider expanding the program.
This past May, Bueler and Harris watched as Gissela Guevara, a student from Lowell High School in San Francisco, became the first Bon Vivants Scholar. She's now at San Jose State University, studying nursing.
"As a graduate of the University of San Francisco, my personal values line up almost directly with those of the university, and it's important to me that my personal values inform the values of my company," said Harris. "Our hope is that this scholarship, and its roots in our neighborhood of San Francisco, allows us to build real relationships that go beyond strictly its financial component."