Engaged Learning
A Family Affair
Partnership provides scholarship to Sport Management student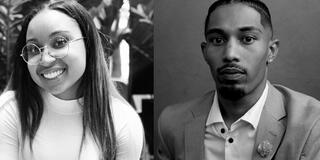 Thanks to a partnership between the University of San Francisco's Sport Management program and the Black Unified Sports Family (BUSF), a student in the Sport Management master's program will receive $5,000 toward their degree.
The new BUSF Scholarship, to be awarded to students entering the program at the start of the next academic year, is intended to pay it forward for current students.
"This is a way of empowering students," said Jordan Bufford MA '19. "A lot of students may have concerns around completing something like grad school, so to help provide them with financial stability or assistance as they're going through their academic career would be extremely beneficial."
Community First
Bufford and fellow sport management alumni Keisha May MA '19 and Jamal Rasheed MA '19 founded BUSF shortly after they graduated as a way to provide a sense of community among the program's students and serve as a resource and networking tool for students and alumni.
Adding a scholarship to BUSF's offerings made sense as another way of helping students. "We've all gone through the program and had our own financial battles to get through and triumph over," May said. "Scholarships made a difference."
Those personal struggles will be top of mind in reviewing scholarship applications. Applicants will answer questions that speak to their goals and the impact such a scholarship would have on their graduate school education. "We're hoping to get to know them as much as possible through the applications so that we can figure out who would most benefit from the scholarship, who would most be able to really utilize the funding to reach their goals and aspirations," May said.
More then Money
The scholarship's impact will extend beyond the actual money, according to Brent R. von Forstmeyer, director of administration for the Sport Management program. 
"USF Sport Management is proud of its partnership with BUSF and unites behind a shared mission of supporting students with a sense of community in their pursuits of a career in sports," von Forstmeyer said. "The BUSF Scholarship was created in honor of our alumni for continuing to pay it forward by helping current students learn valuable career insights, life lessons, and support through mentorship and scholarship opportunities."