Campus Life
Every Cap Tells a Story
New grads share their mortarboard decor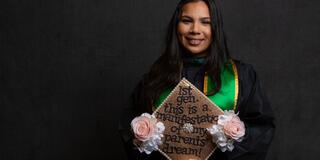 How to stand out in a sea of caps and gowns at commencement? New graduates talk about their mortarboard designs and the inspiration behind them.
Nancy Alvarez, MSN-ME CNL, Nursing
Image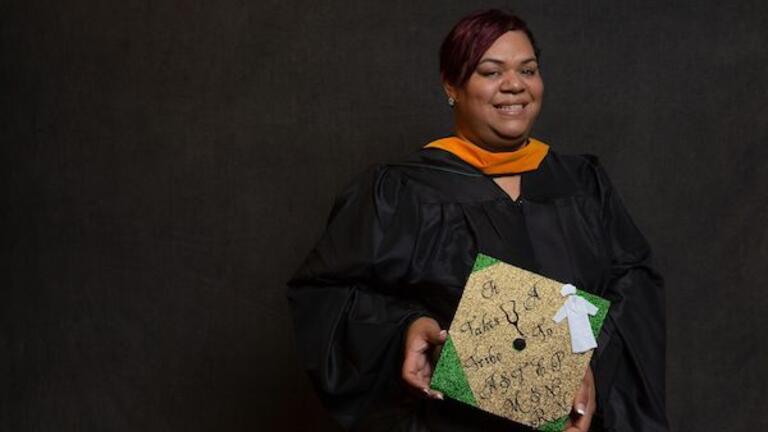 "I am a mom, I work, and I'm a student. It takes time, dedication, and creativity. It also takes a tribe. I believe in achievement through success, excellence, and perseverance. I believe you should tell your plan to the universe. And everything I've shouted out to the universe has happened."
Mauricio Velasco, MA, Museum Studies
Image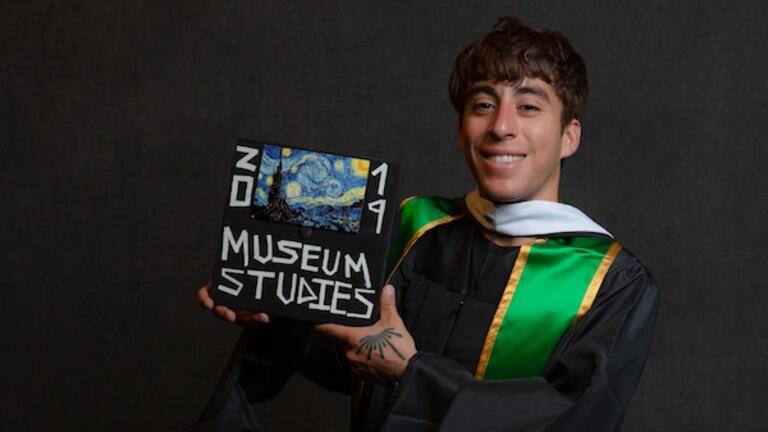 "This is for my mom. We always went to museums when I was a kid. I'd like to maybe work at a park museum or open a gallery space with a bar. I could call it Casa De Mo — short for Mauricio."
Crystal Theresa Zapanta Ejanda, MFA, Writing
Image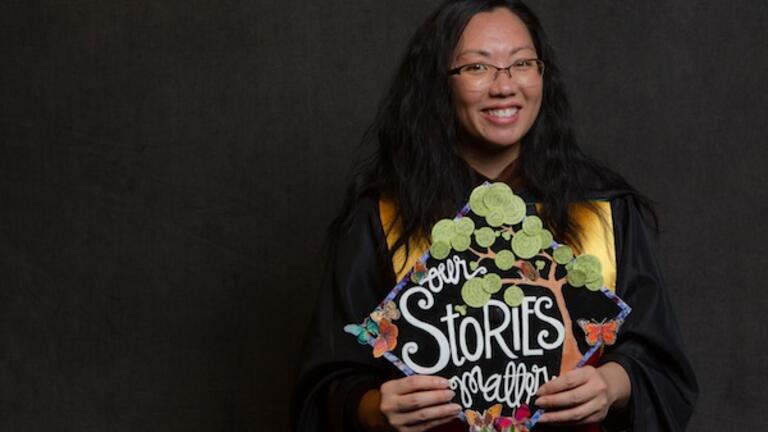 "A lot of people informed my writing, and this is my way of honoring them. My thesis project is a collection of writing that explores how people navigate grief, particularly after miscarriage, stillbirth, and infertility. The tree represents how our stories grow from our experiences, and the leaves have the names of the children of bereaved parents who have supported me. And the trunk includes my husband and children as my core and my base. The butterflies are known in the 'baby loss' community as a sign of babies who've died, but they also represent growth and transformation."
Janet Chen, BA, Psychology
Image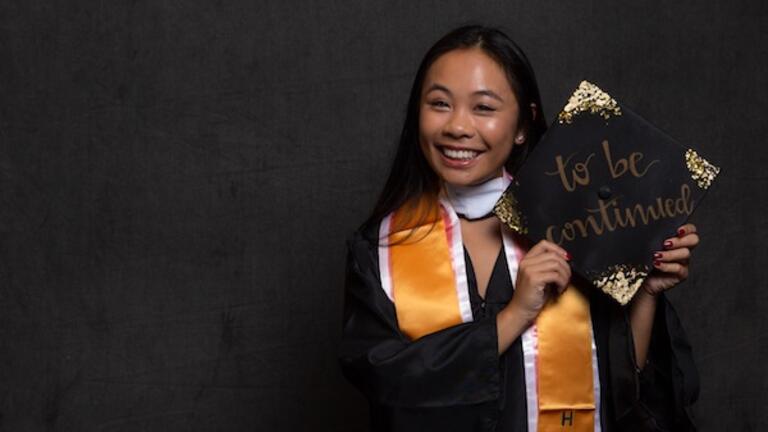 "The design I chose for my graduation cap was 'to be continued' because I feel like there is always a new adventure and new story to be added to my life. Just because this is my graduation day and my time here as an undergraduate student may be over, my story and my journey is definitely not. Also, I am so fortunate to be given the opportunity to continue my education here at the University of San Francisco as a graduate student in the School of Education, where I will be receiving my master's degree in teaching and credential."
Nancy Reyes, BA, Sociology
Image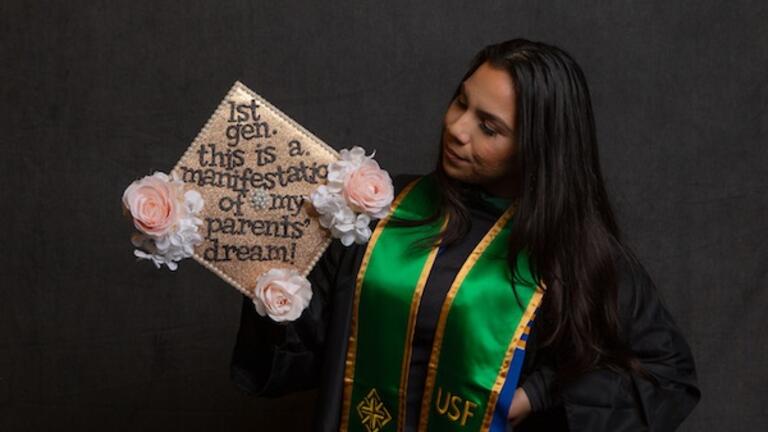 "Mine is pink, with flowers, pearls, and the Salvadoran flag shield. This represents my parents' country of origin and the story behind their struggle. I also want to recognize the outcome of our hard work and sacrifices as immigrants and as a first-generation student myself."
Angel-Lynn Atalit, BA, Psychology
Image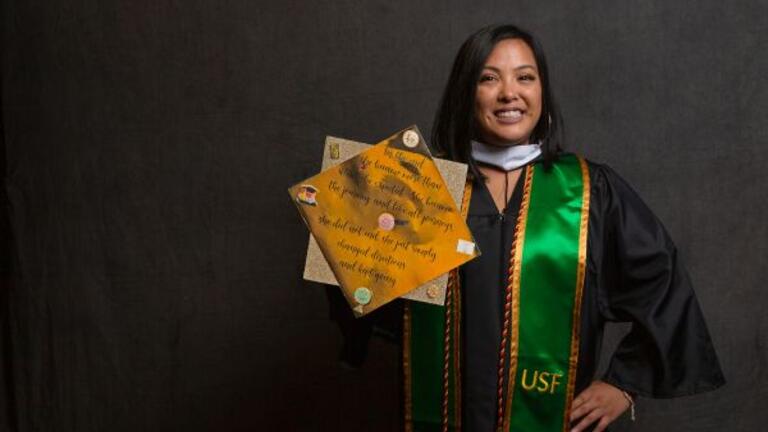 "The quote I chose is 'In the end, she became more than what she expected. She became the journey, and like all journeys, she did not end, she just simply changed directions and kept going.' The inspiration behind my choice is because I dropped out of San Francisco State when I was 19 and dealing with depression. In 2015, I attended Skyline College, where I eventually chose psychology as a major. In spring 2017, I applied to USF, San Francisco State, and Cal State East Bay and was accepted into all three. The journey is about becoming who I want to be and how I see myself. No matter what life obstacles and struggles, I will change directions and keep going because I am worth it."
Brenda Thammavong, MA, Public Administration
Image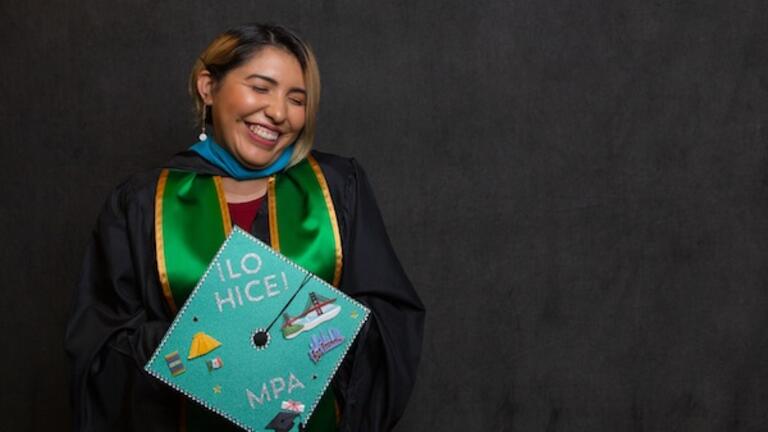 "My mortarboard was inspired by my journey to complete my MPA. On the top corner it reads 'Lo Hice!' — Spanish for 'I did it!' I am the first in my family to obtain a master's degree. On the left side of my board, the Aztec pyramid and the Mexican flag pay homage to my Mexican roots. I am incredibly proud to call myself a Mexican. On the right side of my board, I have the Golden Gate Bridge and the San Francisco skyline. This pays homage to USF and how moving to Northern California has allowed me the opportunity to pursue this amazing degree."
Christine Bernardo, BS, Nursing
Image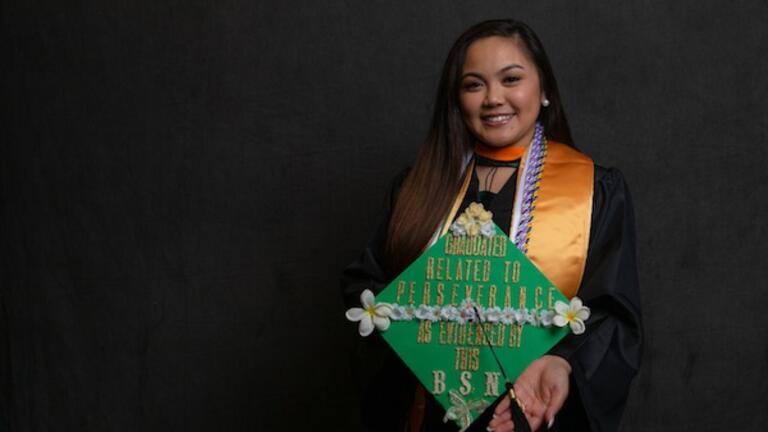 "It says 'Graduated related to perseverance as evidenced by this BSN.' It is inspired by the nursing diagnosis form that we use to formulate patient care plans. I decided to do this because it was something that I had never seen before and it holds significance to the nursing profession. The white and gold butterfly signifies my loved ones who have passed and could not attend my pinning or graduation."
Ivy An, BS, Computer Science
Image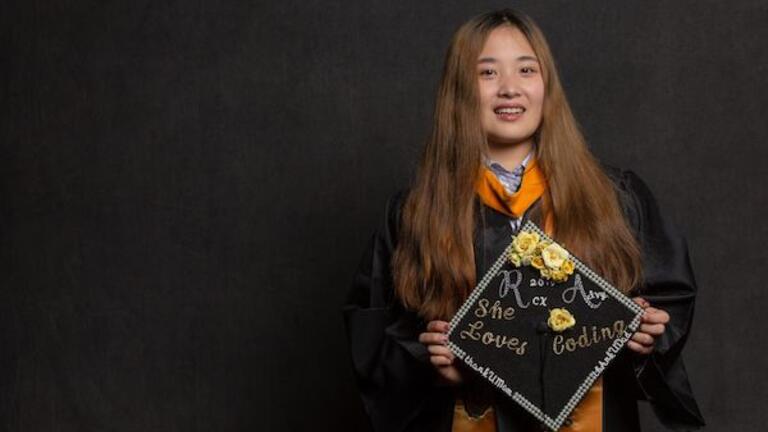 "I really love coding, and computer science really changed my life. I didn't know what to do before. I was a mathematics major, and then I discovered computer science. And I found, wow, this is my path. Now, I'm going to be a software engineer for Salesforce. Also, I will include 'Thank you, Mom and Dad,' because they have supported me.