Giving
A Drumbeat for Engineering at USF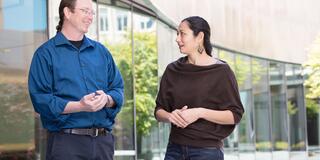 The University of San Francisco is creating a new engineering program, one that defies convention and is built on innovation, ethical values, and bringing together students across disciplines to solve real-world problems.
Here, in the heart of the tech, biotech, and sustainable energy world, USF will train engineers who can meet the rapidly changing needs of the future and lead in business and industry.
"We have an opportunity to create a new type of engineering program that is forward-thinking and designed to prepare students to solve the problems of the 21st century," said Christopher Brooks, associate dean of Academic Operations and a Computer Science professor at USF who is leading a team across the university to develop an engineering program.
More than $1 million has been raised by early investors, who strongly support engineering at USF, and the plan is to launch the program in the fall of 2020. The initial funds are focused on developing an Innovation Hive, a core component of a future School of Engineering, which will provide a maker space and code lab, as well as team-based student consortium projects with external partners and innovative teaching approaches to engage students.
"USF has the potential to be the premier university in the area with engineering," said Chris Seiwald, an early investor in USF Engineering and founder of the software company Perforce. His father was a professor in the Chemistry department for 25 years at USF, and Seiwald credits his time as a high school student exploring the USF Computer Science labs with preparing him well for his career.
"USF has an opportunity to teach engineering with a conscience," said Seiwald. "The university can teach engineering with an eye toward social responsibility. With great power, comes responsibility, and people are finding that out now. We need engineers with a conscience."
An Engineering Curriculum for the Future
At its heart, the new engineering program will provide students with an education based on innovation, emotional intelligence, and active learning, said Hana Böttger, a member of the team that is developing engineering at USF. Böttger is a professor who teaches physics, design, structural analysis, construction materials, integrated design, and international development courses for USF Architecture and Community Design students.
"Students will have the opportunity to learn empathy and perspective along with engineering problem-solving by working on real problems brought to them by a community partner, with whom they develop a solution, and whose final approval the solution must earn," said Böttger. "This will happen in a cross-disciplinary project course every spring starting in year one."
That type of project-based learning appeals to Rob Volpentest '12, vice president of Novo Construction in San Francisco.
"USF is going to have an open lab environment where teams are studying cases, and they're able to put together solutions to problems," he said. "This is important, because traditionally a lot of engineers have been pigeonholed in their various areas of practice. Recently, though, they've become more collaborative, and USF will be able to teach business and finance, in addition to engineering, so that USF's engineers be able to collaborate and have the emotional intelligence that's needed in the field."
Volpentest, who graduated from USF when he was nearly 50, returned to school as a way to set an example for his young son. Today, he's also an early investor in engineering at USF and sees it as the kind of program he'd be proud to have his son attend.
Promoting Diversity, Innovation, and Entrepreneurship
So many engineering schools today are specialized, Brooks pointed out. USF can be nimble, flexible, and responsive to the needs of the future, he said. And USF will put a new face on engineering — one that includes more women, more people of color, more voices of innovation, and more ethical, compassionate leaders.
Brooks believes USF can meet industry demand for a new kind of engineer — all the while promoting diversity, innovation, and entrepreneurship in the engineering field.
"We know that today's engineers need the ethics, communication skills, critical thinking, and ability to see the big picture that are the hallmarks of a Jesuit liberal arts education," Brooks said.
"We're also very interested in building a diverse engineering program that engages with the Bay Area in an intentional way," he said. "The world has a lot of problems that engineers with these characteristics and training will be well equipped to take on."
Seiwald, who ran his software company for 21 years, agrees.
"We don't need to create more crank turners," said Seiwald. "We need to develop leaders; those are the people who know how to do the work and also have ethics. This an engineering program that can turn you into the kind of the person that is a future executive, not just a doer."
To learn more about engineering at USF, contact Lindsey McClenahan, Senior Director of Development for the College of Arts & Sciences, (415) 422-5105
This gift was made in support of Changing the World from Here: Campaign for the University of San Francisco.